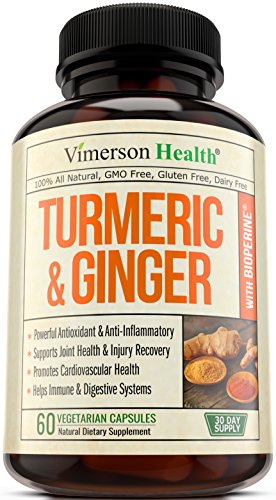 VIMERSON HEALTH TURMERIC + GINGER WITH BIOPERINE
Our Turmeric Curcumin with BioPerine supplement contains the high-quality ingredients of Turmeric, Ginger Root Extract & Bioperine (Black Pepper Extract) that may help support healthy joints, eyes, skin, hair, heart, and mood.
As a powerful antioxidant, our supplement may help protect your body against free radicals caused by pollution, sunlight, poor diet, cigarette smoke, and more! Also, our Turmeric Curcumin supplement is standardized to 95% curcuminoids, and may help relieve joint, back, neck, knee, and hand pain, reduce inflammation and skin dryness, boost brain function and memory, improve digestion and blood circulation, and enhance the immune and nervous systems.
Why Choose Us?
★ Made in the USA
★ GMP-Certified
★ 100% NATURAL Supplement
★ NON-GMO Ingredients
★ Vegan & Vegetarian
★ Gluten Free
★ Dairy Free
★ Soy Free
★ Sugar Free
TURMERIC
Turmeric (Curcuma Longa) is a member of the ginger family and is an anti-inflammatory herb that may help to treat people suffering from joint pain by reducing pain, inflammation and stiffness, while supporting overall health.
GINGER ROOT EXTRACT
Ginger Root Extract is known to act as an anti-inflammatory and pain reliever that can help decrease joint pain and reduce inflammation.
CURCUMIN
Curcumin is the main ingredient found in Turmeric. When standardized to 95% curcuminoids, Curcumin is a natural antioxidant and anti-inflammatory.
BIOPERINE (BLACK PEPPER EXTRACT)
Derived from black pepper, Bioperine increases and enhances nutrient absorption and bioavailability, especially when taken with other Supplements.
★ 100% MONEY-BACK GUARANTEE – Get rid of the discomfort of joint pain & inflammation, or your money back!
★ POWERFUL ANTIOXIDANT & ANTI-INFLAMMATORY – Our Turmeric Curcumin with Ginger and BioPerine supplement alternative remedy is standardized to 95% Curcuminoids, and is a natural Antioxidant and Anti Inflammatory that may help relieve joint, back, neck, knee, and hand pain, reduce inflammation and skin dryness, boost brain function and memory, improve digestion and blood circulation, and enhance the immune and nervous systems. Also good for your eyes, hair, mood and heart.
★ BIOPERINE & GINGER ROOT EXTRACT – Derived from Black Pepper, Bioperine may help increase and enhance nutrient absorption and bioavailability, especially when taken with other supplements. Ginger Root Extract works in tandem with Curcumin to help reduce pain and stiffness in joints.
★ ALL NATURAL, NON-GMO & MADE IN USA – All Vimerson Health products (capsules, pills, tablets, vitamins, powders, multivitamins, supplements, vegan foods and extracts for men, women, and seniors) are manufactured in the USA in an FDA-approved and GMP-certified facility. Our products are made with all natural ingredients and are free of GMOs, gluten, dairy, soy, sugar, preservatives, antibiotics, hormones, binders, yeast and artificial ingredients and flavors.
★ COMMON NAMES: There are many different ways people try to spell or pronounce Turmeric Curcumin. Here are some common misspellings: tucmeric tumeri turmericcurcumin tumeroc turemic turmer termeric turneric trumeric tmeric tumerica tumuric tomeric tumerico tuneric tumetric tumericx timetric turmeic tumerik turmerik tumerick turmericx cucurmin circumin cucumin curamin curumin cur-cumin cur cumin curculin curcuwin curcurmin curcuminoids curcuminoid longa bioprene pepperine peperine piperin