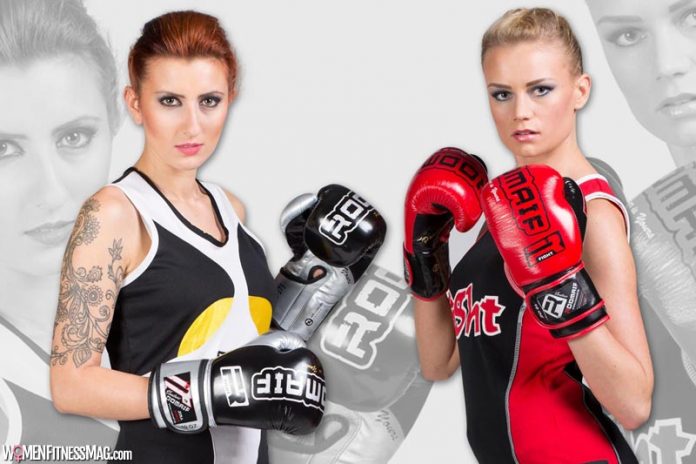 Why Boxing is the Perfect Workout for Women :
Mindfulness
Probably not the first thing you think of when you imagine boxing training. However, when you try boxing you'll find that the challenging nature of the training forces you to be completely in the moment. You may be looking at the lesson schedule thinking that an hour or so of training is a bit daunting, but it'll absolutely fly by.
This present moment awareness that you will experience is almost like meditation. The noise of daily life is completely silenced as you push yourself through the motions. Another mental benefit of boxing is that you can freely target your aggression in a totally constructive way. Much like men being told to suppress emotions that show weakness, many women experience the opposite. Aggression is deemed to be an unfeminine characteristic by some but is a completely normal part of all of us, so let it out, sister.
Functional Strength
Boxing training alone is not going to turn you into she-hulk, don't worry. The sport is all about endurance and economy of movement, something that gets harder the bulkier you are. Aside from some heavyweight athletes, most professional boxers, male and female are toned, agile and strong. Boxing is almost unmatched in regards to fat burning and fitness, as it targets areas that women are prone to store body fat.
Hitting pads or a heavy bag with your gloves on is going to make your arms stronger and more toned, whilst the bobbing and weaving drills put your legs and glutes under a lot of stress. Finally, the abs get targeting by pretty much everything, as you'll be stabilizing your core throughout your training and keeping a firm, steady stance. This new found strength can bestow you with some serious confidence in your body, not just how it looks but also how it performs.
Toughness
First things first, nobody is expecting you to get into the ring and spar. No good coach will throw you to the wolves when it comes to training fighting skills with another person, especially if it's not something you are comfortable with. There can be more to toughness than just getting punched in the face and not bursting into tears. You will also learn mental toughness, especially the importance of not giving up.
However, boxing is a very physical sport, even if you aren't trading blows with opposition inside the ring. You have to take care of your body or it will start to break down under stress. With one of the first areas to go being your hands.
This is why you need a pair of boxing gloves that are high quality and protect your hands and wrists thoroughly. ROOMAIF's Victory Boxing Gloves are a great choice for those who want a versatile glove. They are suitable for all aspects of training and designed with safety in mind. The Victory Boxing Gloves come in various weights and colours but most importantly, they are padded with shock-absorbing foam to keep your hands out of harm's way. The gloves are equipped with Velcro straps so you can easily get them off to grab a drink between rounds and can be effectively cleaned to remove that post-training funk.
When you have a hobby with a little risk involved, it pays to choose quality brands and equipment to have confidence in your gear. ROOMAIF has been manufacturing high-quality boxing and fitness goods from Germany for almost 30 years. They only use the best materials and are known for quality by athletes and weekend warriors alike. Sponsoring world champions and Olympians for their outings in the ring. For the more serious boxing students out there, they even offer fitness accessories like skipping ropes and punching bags so you can take your training home with you.
Self-Defence
Last but not least, self-defence.
The world is a much safer place than it's ever been and I'm definitely not here to spread panic. There are lots of good people in the world, but there are some bad ones too and it's downright irresponsible to not prepare for the occasion that you meet one! Boxing will make you more aware of your physical capabilities, this confidence can make you look and act like less of a victim and trust yourself to handle scary situations. You'll be more aware of distance too, body language and better in charge of your emotions, like aggression that I mentioned earlier.
If all else fails and things really hit the fan, it doesn't hurt that you can now throw some serious hands too! Violence should always be a last resort but it'll sure give any creeps out there something to think about.
Related Videos about Why Boxing is the Perfect Workout for Women :
BOXING: Top Benefits for Women
Women Boxing | Benefits for health
6 Benefits of Boxing and Kickboxing Workouts
Health Benefits for Women Boxing
Benefits of Boxing for Women
30-Minute At-Home Boxing Workout
Boxing Workout Routine
Shadow-Boxing Workout For Seriously Toned Abs & Arms
Related Infographics about Why Boxing is the Perfect Workout for Women :
Why Boxing is the Perfect Workout for Women
benefits of boxing for females, boxing body transformation female, boxing weight loss female, boxing benefits for male, is boxing a good workout, is title boxing a good workout, benefits of boxing bag, why is boxing a good sport, boxing workout at home, benefits of boxing in hindi, boxing advantages and disadvantages, how fast does boxing get you in shape,
10 ounce boxing gloves, 12 oz boxing gloves, 18 oz boxing gloves, amature boxing gloves, best boxing gloves for women, best boxing training gloves, best womens boxing gloves, boxing glove prices, breast cancer boxing gloves, buy boxing equipment, buying boxing gloves, champion boxing gloves, cheap glove box, childrens boxing gloves,