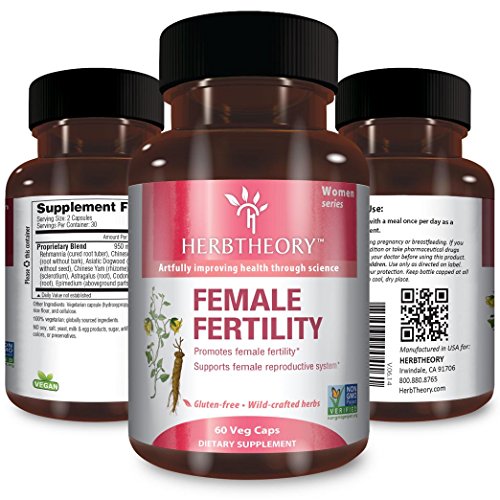 Manufacturer Authorized Seller: TCM Supplements
FEMALE FERTILITY for Women BY HERBTHEORY
Life is crazy; it's unpredictable. In general, it may see to get, well…overwhelming. But when it comes to planning a family, you want to have some control. The birds and the bees should be the easy part, the "fun" part! But sometimes biology has a silly way of doing its own thing. Female fertility supports the female reproductive system by encouraging fertility. We know you're planning for your own little bundle of joy someday, don't let biology get in the way!
Serving Size: 2 capsules
Serving Per Container: 30
Traditional Chinese Medicine holds that deficiencies of the body's main detoxifying organs – the kidneys, liver, and blood – are at the root of female infertility. It is also widely known in Western medicine that the pituitary, hypothalamus and ovaries must be in harmonious coordination in order for conception to take place. The liver controls the blood supply to the kidneys, and the kidneys are directly regulated by the pituitary gland; therefore, a poor functioning liver creates depleted kidneys that create toxin build-up and stress in the body – this directly interrupts the hormonal signals that affect the ability to conceive. FEMALE FERTILITY is intended to address the causes that disrupt the conception process.*
The easiest and best way to get pregnant and have a healthy pregnancy is to first be physically healthy.
Herbtheory Female Fertility Supplement for Women is made with Epimedium (Horney Goat Weed), which is a blend that can help detoxify the body to reduce stress and naturally boost libido.*
Rehmannia is a wonderful herb for supporting the vitality of female fertility. It is used to maintain and/or regulate the menstrual cycle, and reduce inflammation and uterine spasm. Chinses Peony has been used for painful menstruation and PCOS. It contains the chemical compound paeoniflorin, which has been shown to decrease testosterone production.*
Asiatic Dogwood may increase fertility in infertile women. It may lower levels of FSH and increase estradiol levels. Chinese Yam may enable diosgenin to act on estrogen receptor sites in the hypothalamus, which in turn may help to regulate production of estrogen, aiding in estrogen balance.*
Poria can reduce water retention and edema associated with menstruation. Condonopsisis one of several fertility herbs classified as an adrenal tonic and adaptogen, anti-anxiety, anti-inflammatory and overall tonic for vitality, energy and overall well-being.*
Astragalus helps to decrease stress and tension which can affect fertility and regulates normal cell growth.*