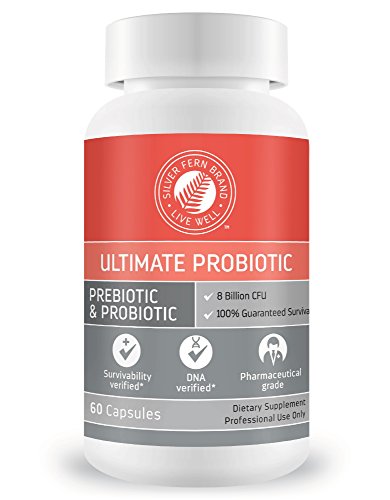 When we say Ultimate Probiotic, we aren't simply boasting about how great our product is, we literally have the science to back up that claim. Our probiotic capsules are pharmaceutical grade, 100% guaranteed survivability, and DNA verified, making it the Ultimate Probiotic available today!
Silver FernTM Brand has developed the best ancestral probiotic for natural survival without the enteric coating or "time-release" gimmicks. Simply said, this is nature's probiotic. The Ultimate Probiotic's amazing blend is what our ancestors consumed off the land for thousands of years. This is the first formula to have three different classes of nature's probiotics – spores, probiotic yeast, and acid stable pediococcus. If you are looking for the absolute best probiotic anywhere look no further than Silver Fern'sTM Ultimate Probiotic.
The Silver FernTM Brand Ultimate Probiotic is unique, different, clinically tested, and lab tested for proven efficacy and results. We made sure that we do things differently than every other probiotic on the market. Here's Why: 95% of probiotics DO NOT make it into the intestines alive, which means they do virtually nothing for you. A 2015 university study showed that ONLY 1 in 16 probiotic products properly characterized the label claim.
Please Note: Capsules may contain brown specks, which are a natural part of the ferment that is extracted with the probiotic bacteria. We do a direct extraction and do not bleach or deodorize the powder to make it artificially white. Like any, truly natural product, there will be color variations and the brown specs are just part of the ferment. In some batches there will be more, in some, there will be less as we do not standardize the product to the specks. There are no changes to the formulation that is carefully regulated.
1 Bottle = 60 Capsules = 30 Day Supply – Vegetarian Capsules – Gluten Free – Pharmaceutical Grade
100% guaranteed survivability – Independent, 3rd party lab proven survivability results – 3rd party DNA verification of the strains – 3 university tested bacillus species
New, revolutionary proprietary probiotic strain – Contains a prebiotic to help activate the probiotic bacteria in the intestines
Strains: Saccharomyces Boulardii, Pediococcus Acidilactici, Bacillus Subtilis HU58, Bacillus Coagulans, Bacillus Clausii
Improves digestion and food tolerance – Reduces gas, bloating and digestive discomfort – Aids in recovery of the flora after antibiotic use – Improves regularity of bowel movements