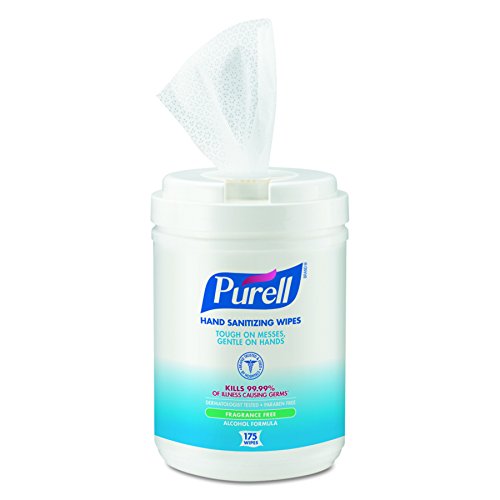 PURELL alcohol formulation sanitizing wipes are antimicrobial premoistened hand wipes with 62% ethyl alcohol to help reduce the number of germs on hands and remove light soils; and they come in a plastic canister that keeps moisture in while a pop-up dispenser allows wipe extraction. These textured wipes are lint-free to leave hands clean, and contain no fragrance or dye.
Hand sanitizers (also called hand antiseptics) are liquids, gels, or foams that help reduce the number of germs on hands when a small amount is rubbed into the skin; no rinsing with water or drying with towels is needed. In situations when soap and water are not available, the U.S. Centers for Disease Control and Prevention (CDC) recommends use of an alcohol-based hand sanitizer that contains at least 60% alcohol. Alcohol-based hand sanitizers can quickly reduce the number of germs on hands, but do not eliminate every kind of pathogenic microorganism. Hand sanitizers are not as effective when hands are visibly dirty. They are available in a range of sizes, from small bottles for personal use to large mounted dispensers for public or institutional use. They are also available as wipes: small, disposable paper or nonwoven towels soaked in a hand sanitizer liquid. Hand sanitizers are typically part of hand hygiene programs at health care and food processing facilities, where pathogenic microorganisms are common.
GOJO Industries manufactures hygiene products, including hand washing, hand sanitizing, and skin care formulas under the GOJO, PURELL, PROVON, MICRELL, and AQUELL brands. The company, founded in 1946, is headquartered in Akron, OH.
DUAL PURPOSE: Skin friendly wipes are gentle to clean and sanitize hands and faces while also tough on messes and spills.
SKIN FRIENDLY: Pre-Moistened Wipes are dermatologist tested and contain skin conditioners to protect skin from dryness without leaving a sticky residue.
GERM KILLER: Proven to kill 99.99% of germs on hands to keep you healthy in the most demanding environments.
PORTABLE: Purell wipe canisters can be used in several locations including office break rooms, health clubs, schools, physician offices, nursing stations, mobile healthcare units, construction vehicles and grocery stores.
TRUSTED BRAND: Purell is the most trusted and used hand sanitizer by hospitals and clinically proven effective in maintaining skin health.