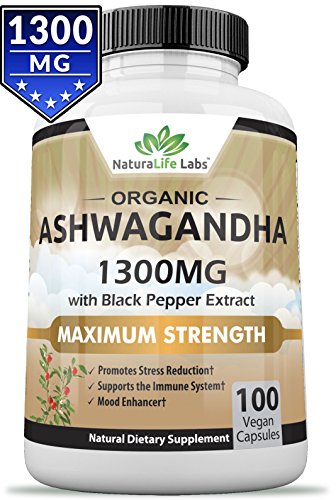 NaturaLife Labs Organic Ashwagandha Root Powder and Extract is 100% pure and organic with organic black pepper extract to enhance absorption while still being gentle on your stomach. Ashwagandha is also used as an "adaptogen" to help the body cope with daily stress. NaturaLife Labs Organic Ashwagandha delivers 1300 MG per two vegan capsules with 100 vegan capsules making it the most potent and highest mg count available on the market.
Our Organic Ashwagandha Suppports:†
Supports a healthy nervous system
Promotes stress reduction
Supports the immune system
Promotes Relaxation
Superior quality:
No Fillers, magnesium stearate, dioxides, preservatives.
No GMO's, gluten, soy, sugar, yeast, starch.
No Artificial ingredients, no milk, no lactose.
NaturaLife Labs products are manufactured in accordance with Good Manufacturing Practices (GMP). Made in the USA
100% SATISFACTION GUARANTEE: Feel results or your money back, no questions asked!
✔️SUPERIOR POTENCY 1300 MG: our organic ashwagandha root delivers 1300 mg per serving with 100 vegan capsules making it the most potent formula available on the market. We also added organic black pepper extract to enhance absorption while still being gentle on your stomach.
✔️ORGANIC ASHWAGANDHA: Made with 100% pure organic ashwagandha powder (root), organic ashwagandha root extract and organic black pepper extract to maximize absorption.
✔️SUPERIOR QUALITY: We take pride in providing you 100% pure organic ashwagandha which does NOT CONTAIN fillers, magnesium stearate, dioxides, preservatives, gluten, soy, sugar, yeast, starch, non-mo
Manufactured in a FDA registered facility in accordance with Good Manufacturing Practices (GMP)