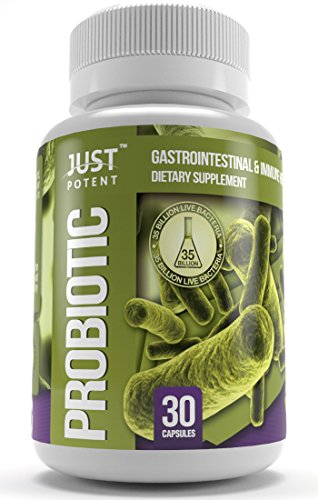 Did you know the human gut is home to about 100 trillion bacteria? Did you also know that the Just Potent Probiotic supplement provides an equivalent of 1.05% (1 trillion 50 billion to be exact) of good bacteria per bottle with better and higher stomach survivability?
Probiotics are live microorganisms (good and super friendly bacteria) that are beneficial to our health. They reside naturally in our body and they cause no harm.
The Just Potent Advantage
• Our promise to you is to never sell you BULL. We simply sell the best probiotics supplement in the world!
• All strains present in every capsule are cultivated here in the United States. No part of this product is manufactured outside of the United States.
• Our probiotics supplement have no traces of gluten.
• Free of GMO, dairy, salt, wheat, preservatives, artificial colors or flavors.
• Higher milligrams of FOS per capsule than most brands. FOS helps with growth of beneficial bacteria while at the same time increasing overall gastrointestinal tract health. We simply sell the best probiotics supplement in the world!
• Guaranteed minimum of 1 trillion 50 billion CFUs per bottle through expiration.
• Guaranteed shelf stable and higher stomach acid survivability. Absolutely no refrigeration required!
• 8 powerful handpicked strains that ensures optimal intestinal flora
Choose the right probiotics supplement by buying from a reputable company with solid track record of delivering the best probiotics in the world. Just Potent is BBB accredited with A+ ratings (highest available).
Each capsule contains 7 times the CFUs of the best selling probiotics (PRO-15) on Amazon.
Just Potent Probiotics is arguably the best probiotics in the world; hands down!
Better survivability against stomach acids than any probiotics on the market today.
Improves your immune and digestive system. Become lactose tolerant and regular again!
Significantly help with the side effects associated with antibiotic therapy. Replenish good bacteria faster!