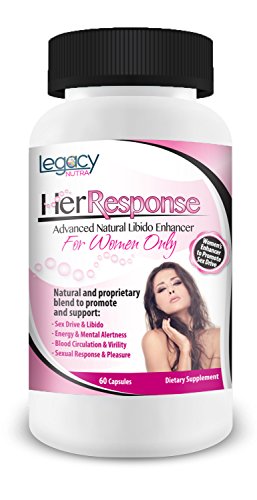 Legacy Nutra's Her Response Horny Goat Weed Extract with Maca Root Sex Drive Pills For Women is your best choice for a Libido Enhancer that Stimulates Increased Pleasure, Intensity & Desire Your Satisfaction Is Guaranteed– OR YOUR MONEY BACK. Click ADD TO CART now and get ready to get your "va-voom" back 🙂
HER RESPONSE FEMALE SEX ENHANCER by Legacy Nutra puts the fun back into your bedroom
TOP SEXUAL WELLNESS AID — Safe, Effective, Natural Herbal Supplement containing Horny Goat Weed, Maca Powder, Tongkat Ali, Saw Palmetto, L-Arginine & More to Heighten Sexual Intimacy & Arousal
RENEWED ENERGY & FOCUS: You'll love the extra benefits of this powerful formula. Experience pure jitter free energy & focus like never before and still be ready to go when the lights go out.
INCREASE DESIRE & PLEASURE! When taken as directed, Legacy's Her Response Horny Goat Weed blend is guaranteed to rev up your sex drive, increase your arousal & desire, intensify your pleasure & boost your overall energy & well-being. It's your #1 choice for sexual wellness.
FULL MONTH SUPPLY– 100% GUARANTEED OR YOUR MONEY BACK — Try Legacy's Her Response Libido Booster For Yourself. Feel the difference in your overall desire, energy levels and well-being. 100% Satisfaction or your money back–GUARANTEED! Buy 2, Get FREE Shipping.