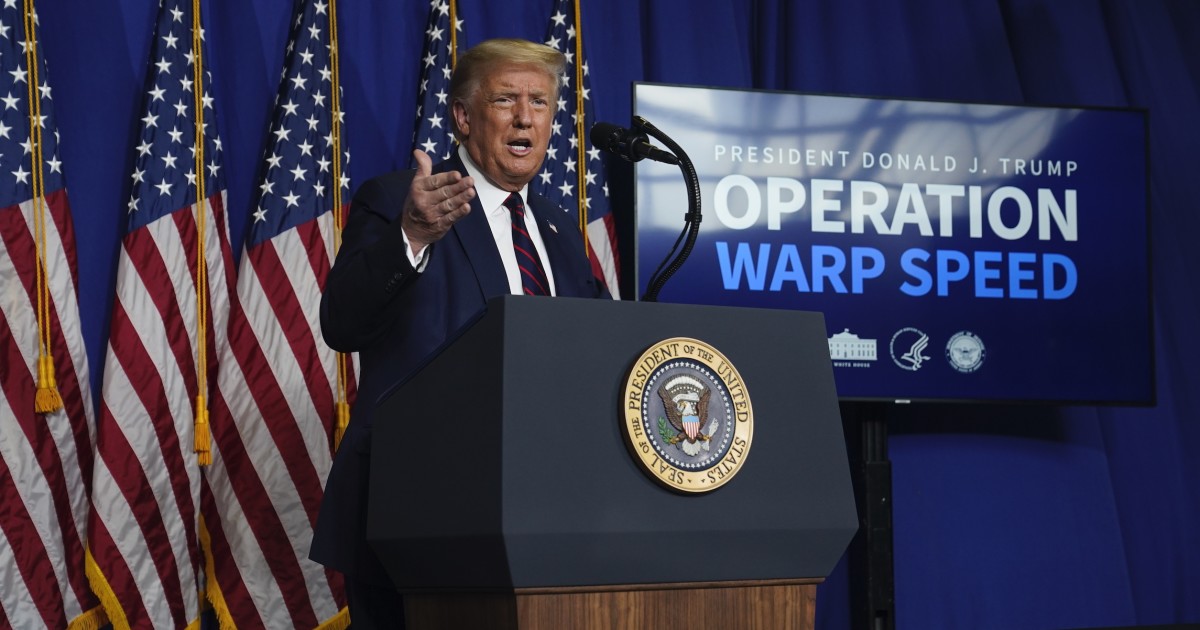 Top officials and healthcare experts expressed hope Monday that the surge of COVID-19 cases in the Sun Belt is stabilizing.
"It looks like Arizona, Texas, and probably Florida at the very least are starting to hit a plateau," former Food and Drug Administration Commissioner Dr. Scott Gottlieb said Monday.
Available intensive care unit beds, an important measure of the pressure on hospitals, appear to have either stabilized or improved in those states.
Gottlieb warned that despite the improvement in Arizona, Florida, and Texas, the pandemic is worsening elsewhere. "Even as these states come down, other states look like they are heating up, and so they'll start to offset the gains we are making in the Sun Belt," he said.
Trump said in a Monday press briefing that cases in Arizona, Florida, and Texas, which are hitting record daily highs, "held steady" over the weekend and federal guidelines should help them "turn the corner" very soon.
"We've been constant and in constant communication with the states and are surging them resources when requested," Trump said. "They largely had what they needed, but anything they need, we send them immediately."
Trump toured the FUJIFILM Diosynth Biotechnologies' Innovation Center in Morrisville, North Carolina, Monday. The lab site has begun production of a vaccine candidate from the biotech firm Novavax. The doses developed at the Morrisville site will be used in a massive phase three human trial in the fall, with about 30,000 human volunteers to determine if the vaccine is both safe and effective.
"We're mass-producing all of the most promising vaccine candidates in advance so that on day one that it's approved, it'll be available to the American people immediately, and we'll probably have a lot for a lot of other people throughout the world," Trump said.
He added that he has heard "very positive things" about vaccine development speed and "we're in very good shape" to have a vaccine by the end of 2020.
After his press briefing, Trump toured the Morrisville biotech facility and was seen wearing a mask. Trump has only recently begun wearing face masks in public. He said last week, after months of declining to wear masks in public, that wearing a mask is "patriotic."
More than 1,800 new COVID-19 cases were reported in Arizona Monday, boosting the total number of cases to 163,827. Florida, meanwhile, reported another 8,901 new cases and 77 new deaths, pushing the total death toll to 5,931. Florida has recorded 432,747 cases.
Moderna launched its phase three trial Monday, which will enroll 30,000 adult volunteers to receive two doses of the vaccine candidate to test for safety and effectiveness. Half of all participants will receive two shots of the vaccine candidate 28 days apart, and the other half will receive two shots of a placebo. Testing will aim to determine if the shots of the vaccine are safe and effective and if they can protect from the most severe infections of COVID-19 and death.
Dr. Anthony Fauci said that 15,000 participants could be enrolled in the phase three trial of the Moderna COVID-19 vaccine by the end of the week.
"I'm not sure that we're going to get there, but hopefully we'll get as many as we possibly can in order to keep our timeline the way we want it to be," Fauci, director of the National Institute of Allergy and Infectious Diseases, said on a conference call Monday.
Nearly 4.3 million COVID-19 infections have been confirmed across the United States, and almost 148,000 people have died.
Trump's national security adviser, Robert O'Brien, tested positive for the coronavirus, but Trump and Vice President Mike Pence are not at risk of exposure, the White House said in a statement Monday.
"He has mild symptoms and has been self-isolating and working from a secure location off site," the White House reported.
Trump told reporters Monday that he "hasn't seen [O'Brien] lately" but added, "I'm calling him later."
The University of Notre Dame announced that it was dropping out as the host of the first presidential debate, citing the pandemic. "The inevitable reduction in student attendance in the debate hall, volunteer opportunities and ancillary educational events undermined the primary benefit of hosting — to provide our students with a meaningful opportunity to engage in the American political process," said Rev. John Jenkins, the university's president. Case Western Reserve University and Cleveland Clinic in Ohio will instead host the Sept. 29 debate.
Target announced Monday that it will close stores on Thanksgiving in an effort to prevent the spread of the coronavirus among large groups of people.
"Historically, deal hunting and holiday shopping can mean crowded events, and this isn't a year for crowds," Target said in a statement Monday.
Target is the latest of several large retailers to announce closures due to COVID-19. Last week, Walmart announced that it would not be opening Walmarts or Sam's Clubs on Thanksgiving Day to reduce crowds and allow employees to spend time with their families.