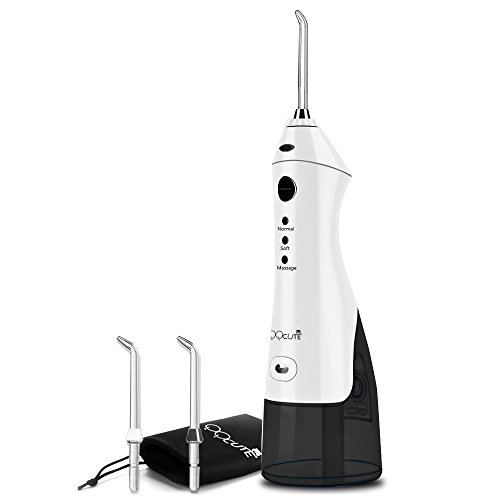 The QQcute Portable Oral Irrigator provides an easy and effective way to promotes healthier gums and brighter teeth.
Most Humanized Design
– The curve and thin body with streamline design is customized for nice handfeel and take up less space on the bathroom countertop.
– One-touch controls. Three operating modes (Normal, Soft, & Pulse) for varying oral care needs.
– Two color-coded and interchangeable tips are included for multiple users.
– Easy-to-fill reservoir with 220ml high-volume Water Capacity which is much higher than common portable water flosser.
– 100% waterproof and maybe used in the shower.
NOTE: This unit is an updated version. Some manuals with the product didn't update accordingly and mistakenly advice the unit can't be
used in the water. Please ignore it. Sorry for the inconvenience.
More Effective and Comfortable Than Floss
– A unique combination of water pressure and pulsations flushes out bacteria from deep pockets along the gum line where regular flossing can't reach.
– Nozzle rotates 360° for cleaning all areas of your oral. Two-minute auto Power-Off after starting.
– Water flossing for about a minute a day conveniently and comfortably removes up to 99.9% of plaque from treated areas and gently massages the gums to improve overall oral health.
– Ideal for anyone with implants, crowns, bridges of periodontal pockets.
More convenient with portable and rechargeable design
– Include powerful lithium ion batteries ensure your irrigator will last up to 2 weeks.
– Comes with a travel bag and a travel plug which can be charged by computer and socket.
Package include:
Oral irrigator x1
Jet tip x2
Travel bag x1
USB cable x1
Plug x1
Manual x1
Come with one-year warranty.
Lightweight, rechargeable and portable design. Great for travel abroad.Perfect as gift send to your families and friends.
Especially effective in cleaning around braces, implants and bridgework, massaging gums and making teeth stronger.
Three operating modes of Normal, Soft and Pulse for various oral care needs.
100% waterproof technology avoid electric leakage and enhance safety.
Powerful lithium Ion battery and full charge will last up to 2 weeks. Universal USB charging cable is included.