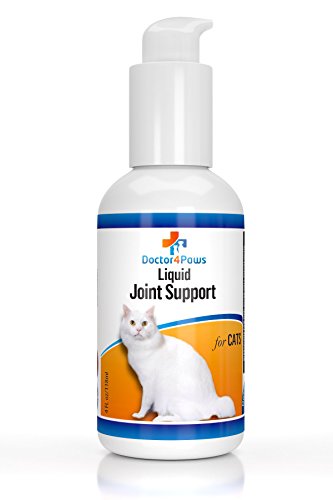 Imagine not being able to sit in your favorite spot in the garden!
…as the joint pain is too much to bare and you just cannot ask for help… that's sad? Well this is what happens to our cat friends when their joints start to deteriorate and they can no longer climb to sit in the tree, or on that high fence or wall or even jump on the work surface (just to be shooed off!).
Joint problems are common in cats although they tend to not be as obvious as in other animals so we need to ensure that the first signs of discomfort and lack of activity are recognized and you purchase
Doctor 4 Paws Liquid Joint Support for Cats
Our product helps provide them with the pain relief they deserve allowing them to climb and jump with more ease
Doctor 4 Paws contains NATURAL ingredients preventing that prescription drug dependency.
Check out the benefits:
• Glucosamine for joint support and cartilage repair
• Chondroitin aiding flexibility and strengthen cartridge against further damage
• MSM for inflammation
• Pre-measurable pumps so no messing around measuring doses
• A liquid simply mixed in with their food they will never tell the difference
all the ingredients which together help provide the best joint care available.
So if you have noticed a slight lack of activity then click the add to cart button above and buy some Doctors 4 Paws Joint Care you'll be glad you did
KEEP YOUR CAT PLAYFUL – before age or injury reduces their inner youthfulness start preventative joint care so they can keep climbing trees, jumping around and tormenting the dog!
LIQUID PRE MEASURED PUMPS – easy for cats to take just mix in with their normal food (Naturally derived and made here in the USA)
IMPROVED JOINT CARE FOR YOUR CAT – glucosamine for support and repair of joint cartilage – chondroitin to aid flexibility and strengthen joint cartridge so prevent further damage, MSM prevents inflammation and heals damaged tissues – proving THE BEST joint support. Resulting in relief from joint pain and stiffness
NATURAL ALTERNATIVE TO PRESCRIPTION MEDICATION – our blend of glucosamine, MSM and Chondroitin will enhance your cats ability to move freely enabling your playful friend to return
LIFETIME GUARANTEE – Our 'Happy Cat' guarantee ensures that if you are not completely satisfied we will refund your purchase 100%. We are dedicated to ensuring the overall health of your cat as they are family members too