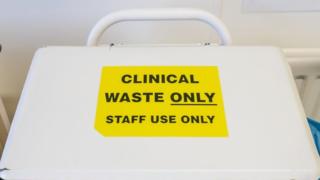 Hundreds of tonnes of human body parts and medical waste is piling up after a disposal company working for the NHS has struggled to incinerate it.
The government confirmed the waste had not been properly disposed of by Healthcare Environmental Services.
A spokeswoman said there was no risk to the public, but the waste material had not been incinerated in a timely fashion.
The anatomical waste is stored on sites in secure and refrigerated containers.
The contractor removes the waste from a significant number, but not all, hospitals in England and Scotland.
It is understood that the Environment Agency has been putting pressure on the company to dispose of the backlog but that rules on incineration have limited the amount which can be dealt with.
A ministerial meeting last month discussed contingency plans for alternative disposal arrangements, but for now the contractor in question is being allowed to continue collecting the waste.
Situation 'is being monitored'
The firm is being closely monitored by the Environment Agency, which first raised the alarm about the problem at the end of July, the government said.
A Department of Health and Social Care spokeswoman said: "We are monitoring the situation closely and have made sure that public services – including NHS Trusts – have contingency plans in place.
"There is absolutely no risk to the health of patients or the wider public.
"Our priority is to prevent disruption to the NHS and other vital public services and work is underway to ensure organisations can continue to dispose of their waste safely and efficiently."
The BBC has contacted Healthcare Environmental Services for comment.
The Health Service Journal, which first reported the story, is reporting the company is blaming a lack of "incineration capacity in the market" and desire to reduce use of landfill.
The statement given to the journal said all waste companies have been affected and the firm had been "consistently" highlighting these issues to regulators.