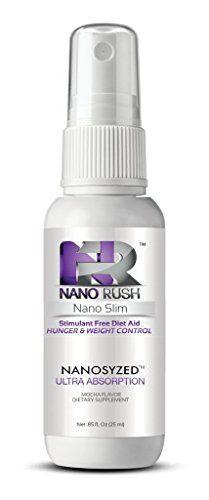 The most effective form of delivery of Stimulant Free Diet Aids is here. We use Nano Technology to deliver instant absorption of our supplement to your bloodstream. Bypassing the digestive tract and the loss that results from digestion, you now are able to get maximum results from a dietary supplement safely and effectively. Unlike anything on the market for dietary supplements and weight control.
Our Nano Technology allows for a much higher concentration of supplement absorption at a much lower dose. Nearly 90% of weight loss products are lost during the digestive process. By entering the bloodstream immediately, only about 10% of the normal dose of supplement is needed! Better ingredients at absorbed at a faster rate…
Nano Slim is a diet supplement formulated to help with hunger in your battle against cravings. Each ingredient has a very specific function when it comes to your body and mind and how we crave more food than the body typically needs.
Weight loss supplements usually focus on energy but not Nano Slim.
Using Nano Slim, the best weight loss supplement on the market, you should find yourself consuming less food and your body will thank you by helping you shed weight in return.
Obesity is preventable! Nano Slim was developed to assist in controlling appetite as well as increase ones metabolism to allow the body to become a fat burning machine. Garcinia Cambogia (Super CitrimaxTM) is only one of the 22 powerhouse ingredients.
Nano Slim works well without harmful side effects!
Stimulant Free Diet Aid- No Jitters… Great Tasting Nano Slim Mocha Flavor with Instant Absorption Spray
NO MORE APPETITE! Stop cravings for extra food and snacks with Tasty Easy to Use Spray
Wonderful Appetite Suppression for Hours and No Difficult to Swallow Diet Pills
Safe for People of All Ages… Nano Rush Spray Can Be Carried Anywhere Including All Airlines
Each Bottle Has Unique Authentic Serial Number