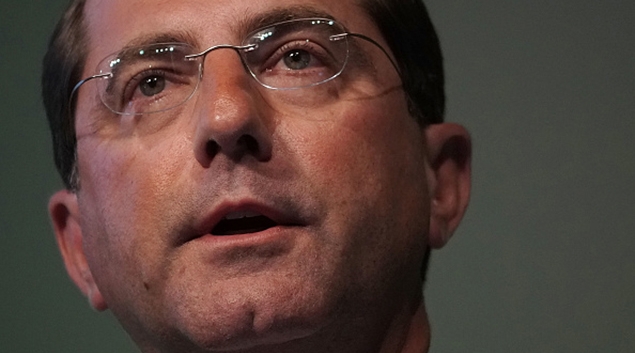 HHS Secretary Alex Azar
The Department of Health and Human Services is proposing to lower the list price of prescription drugs by correcting what it calls the perverse incentive to increase list prices to get higher rebates.
The rebates are passed on to health plans, which use them to lower the price of premiums.
But Part D premiums are not the problem for drug prices, a senior HHS official said Thursday. The problem is the out-of-pocket cost borne by consumers. Premiums may go up 3-5 percent under the regulation, but the out-of-pocket savings will exceed that amount.
IMPACT
The regulation is focused on increasing competition in the drug market by creating incentives to lower list prices and encouraging manufacturers to pass discounts directly onto patients.
Under the rule proposed by HHS Secretary Alex Azar and Inspector General Daniel Levinson on Thursday, prescription drug rebates that today amount to, on average, 26 to 30 percent of a drug's list price, could be passed directly onto patients.
HHS fully expects plan sponsors and PBMs to negotiate more aggressively, the senior HHS official said.
Currently, there is no incentive for these negotiations, as the rebate system rewards ever-increasing list prices, HHS said. PBMs and Part D plans negotiate rebates as a percentage of list prices. This drives up costs for patients.
Under the proposal, drugs would be chosen that have the lowest price, not the ones that offer the highest rebate.
HOW THIS WORKS
The regulation would exclude from safe harbor protection rebates on prescription drugs paid by manufacturers to pharmacy benefit managers, Part D plans and Medicaid managed care organization.
The safe harbor provision specifies that certain conduct will not be in violation of the anti-kickback statute.
Instead, the proposal would create a new safe harbor protecting discounts offered to patients at the pharmacy counter.
There would also be new safe harbor protections for fixed fee service arrangements between drug manufacturers and PBMs.
TREND
There is nothing in current law prohibiting PBMs from changing the system today, HHS said.
The proposal would go into effect 60 days after the final rule is published.
It complements efforts laid out in President Trump's "American Patients First" blueprint, including requiring the disclosure of list prices in television ads, increasing negotiated discounts in Medicare, banning pharmacy gag clauses, adopting real-time prescription benefit tools, and boosting low-cost generic and biosimilar competition, HHS said.
ON THE RECORD
"Every day, Americans–particularly our seniors–pay more than they need to for their prescription drugs because of a hidden system of kickbacks to middlemen. President Trump is proposing to end this era of backdoor deals in the drug industry, bring real transparency to drug markets, and deliver savings directly to patients when they walk into the pharmacy," said HHS Secretary Alex Azar. "Democrats and Republicans looking to lower prescription drug costs have criticized this opaque system for years, and they could pass our proposal into law immediately. This proposal has the potential to be the most significant change in how Americans' drugs are priced at the pharmacy counter, ever, and finally ease the burden of the sticker shock that millions of Americans experience every month for the drugs they need."
Twitter: @SusanJMorse
Email the writer: susan.morse@himssmedia.com