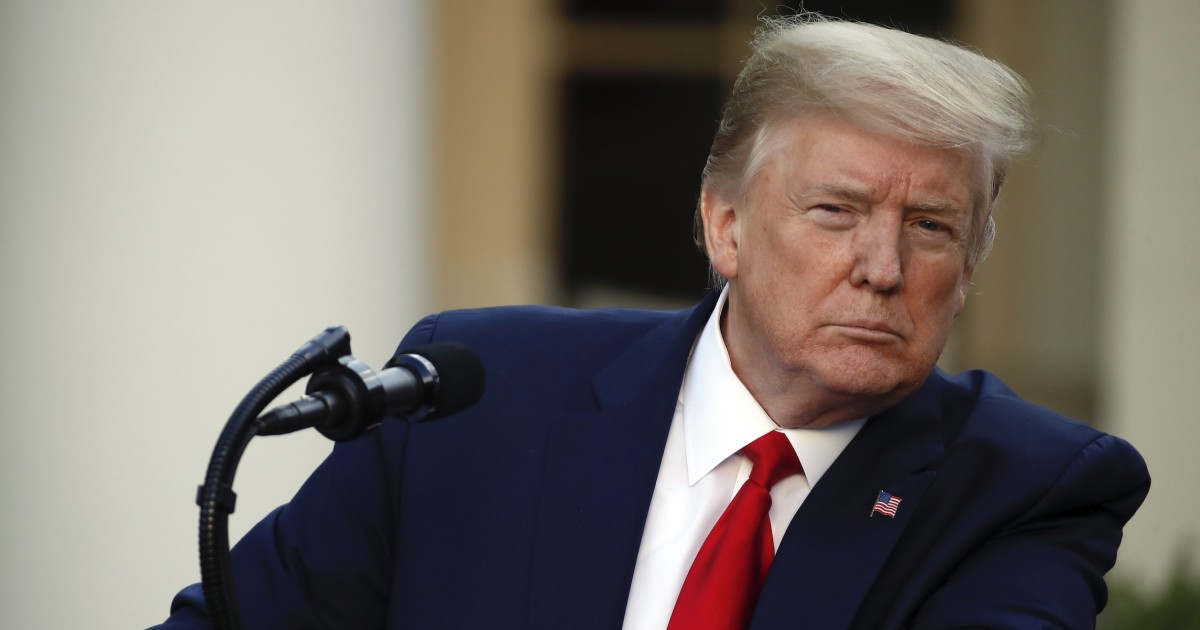 President Trump and infectious disease expert Dr. Anthony Fauci have opposing views on the country's progress in stopping the coronavirus pandemic.
Trump told reporters Thursday during a press briefing that the coronavirus is "under control," while Sun Belt states report daily records in new case counts and the United States surpasses 2.7 million cases.
"[China and Europe are] getting under control, and we are likewise getting under control," Trump said during a Thursday press briefing.
Meanwhile, Fauci said Thursday that the U.S. is "not going in the right direction" in terms of the pandemic.
In an interview with the American Medical Association, Fauci said, "We need to realize that if we do not adhere to the guidelines as we're trying to open, and I don't mean officially, I mean the citizenry, the people that are out there, we're going to be in some serious difficulty."
Rates of new coronavirus infectious have been rising for several weeks and hit a nationwide record high Wednesday when cases surpassed 50,000 for the first time. Still, Trump insisted that the renewed outbreaks will be short-lived.
"Some areas that were very hard-hit are now doing very well. Some were doing very well, and we thought [the virus] may be gone, or they flare up, we're putting out the fires," he said.
Earlier this week, Fauci warned that the pandemic will worsen if compliance with social distancing protocols doesn't improve. The number of new daily infections, he told the Senate health committee, could more than double to about 100,000 cases per day.
Fauci also said Thursday that the coronavirus is showing signs of mutating in a way that may make it easier to spread to more people.
"It just seems that the virus replicates better and may be more transmissible," he said. "This is still at the stage of trying to confirm that."
Trump touted June's job growth during Thursday's press briefing, citing reports from the Bureau of Labor Statistics, which found that 4.8 million jobs were added to nonfarm payrolls, bringing the U.S. unemployment rate down to 11.1%.
"Today's announcement proves that our economy is roaring back. It's coming back extremely strong," Trump told reporters Thursday. "We have some areas where we're putting out the flames of the fires, and it's working out well."
June's job growth was a record. Still, unemployment is higher than at any time before the pandemic since the Great Depression.
The Congressional Budget Office on Thursday projected that the unemployment rate would remain above pre-pandemic levels through the next decade, reaching 4.4% by the end of 2030. The unemployment rate in April, the month before stay-at-home orders were initiated, was 3.5%.
The CBO predicted that the gross domestic product will grow at an annualized rate of 12.4% in the second half of 2020, but growth will be slow for the next 10 years. The agency reported GDP won't hit pre-pandemic levels until the middle of 2022.
Texas Gov. Greg Abbott issued a mandate Thursday requiring that Texans wear face masks in public where social distancing is not possible. Abbott's order applies to all counties in Texas with 20 or more confirmed coronavirus cases.
"If Texans commit to wearing face coverings in public spaces and follow the best health and safety practices, we can both slow the spread of COVID-19 and keep Texas open for business," Abbott said.
Thursday's order is the latest in a series of efforts to suppress the coronavirus outbreak, which has infected nearly 176,000 people. Last week, Abbott paused the state's reopening process, announced restaurants could not provide indoor services, and halted elective surgeries in four counties in an effort to free up hospital space for COVID-19 patients.
Georgia reported more than 3,000 coronavirus cases for the first time ever on Thursday. Gov. Brian Kemp, who allowed the state's stay-at-home order to expire on April 30, told reporters Thursday that he will not make masks mandatory, according to the Financial Times.
"We're not gonna be the nanny state," Kemp said at a press conference on Thursday. "The bottom line is we don't need to mandate people to do the right thing."
California reported 4,056 new coronavirus cases in the past 24 hours, a tally marginally lower than the 7,407 cases reported Wednesday and 9,480 on Tuesday.
Arizona's health department Thursday reported 3,333 new cases in the past day, down from Wednesday's record of nearly 4,900.
2012 presidential candidate Herman Cain is receiving treatment for COVID-19 at an Atlanta hospital, according to a statement on his Twitter account Thursday. He tested positive for the coronavirus on Monday and developed symptoms on Wednesday. Though his statement said "there is no way of knowing for sure" where Cain got sick, he was present at Trump's June 20 campaign rally in Tulsa.