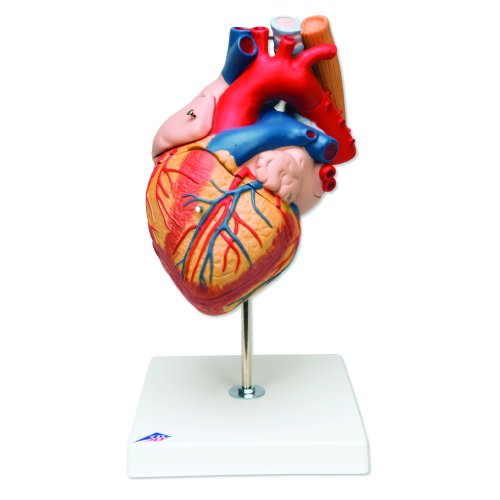 The 3B Scientific G13 human heart model with esophagus and trachea is 2X life size for anatomical study. The model dissembles into five parts for effective demonstration, and has a removable front heart wall and atrium walls for close-up examination. The G13 depicts the upper section of the esophagus, the upper bronchi, and the ascending aorta for additional detail, and is hand painted for realistic appearance. Anatomical models are typically used as educational aids in medical and scientific classrooms and office settings.
The G13 is mounted on a detachable stand for versatile display, and is made of polyvinyl chloride (PVC) plastic, which is corrosion resistant, lightweight, and has high strength. PVC resists reactions with acids, gasoline, alcohol, and hydrocarbons. The model measures 7.1 x 7.1 x 12.6 inches/18.0 x 18.0 x 32.0cm (L x W x H) . (L is the horizontal difference from left to right; W is the horizontal distance from front to back; H is the vertical distance from the lowest to highest point.)
Science education products incorporate applied math and science principles into classroom and homeschool-based projects. Teachers in pre-K, elementary, and secondary classrooms use science education kits and products alongside science, technology, engineering, and math (STEM) curriculum to demonstrate STEM concepts and real-world applications through hands-on activities. Science education projects include a broad range of activities, such as practical experiments in engineering, aeronautics, robotics, energy, chemistry, physics, biology, and geology.
3B Scientific manufactures anatomical models, simulators, charts, and other training materials for use in scientific, medical, and patient education. Founded in 1948 and headquartered in Hamburg, Germany, 3B Scientific meets ISO 9001: 2008 standards.
What's in the Box?
3B Scientific G13 5 Part Heart with Esophagus and Trachea Model, 2 Times Life-size, 7.1 x 7.1 x 12.6 inches (L x W x H)
Instructions
2X life-size human heart model with esophagus and trachea for anatomical study
Dissembles into five parts for effective demonstration
Removable front heart wall and atrium walls for close-up examination
Depicts upper section of esophagus, upper bronchi, and ascending aorta for additional detail
Hand painted for realistic appearance