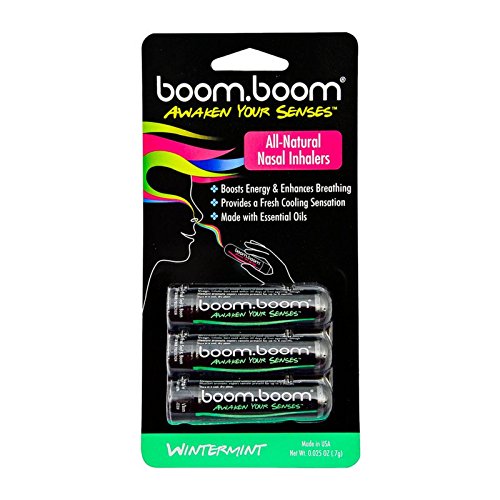 Awaken Your Senses with the Best Aromatherapy Essential Oil Nasal Inhalers by BoomBoom!
Are you suffering from blocked sinuses?
Tired of trying to sleep with a stuffy nose?
Not anymore!
Designed to enhance breathing by clearing out your nasal cavities, these aromatherapy inhalers offer you a refreshing blast of cool, intoxicating scent, filled with the powerful properties of plants!
All natural and safe, these nasal inhalers contain pure, therapeutic grade essential oils, promising a number of wellness benefits with every inhalation!
What BoomBoom Aromatherapy Inhalers Can Do for You
Thanks to the antiviral and antibacterial properties of Peppermint, Eucalyptus and Menthol essential oils, these nasal inhalers will help you:
Relieve sinus congestion
Soothe stuffy nose
Refresh and rejuvenate your nasal cavities
Energize and awaken your senses
Improve focus and mental clarity
Reduce stomach aches
Relieve headaches
Uplift your mood
Pack Your Essential Oil Inhalers On the Go!
Make sure you always keep your aromatherapy inhalers with you wherever you go and enjoy their refreshing energy kick when you need it the most!
Small enough to fit inside your pocket or purse, they are a must-have for frequent travelers, who are always on the go!
Easy to Use In Seconds
All you need to do is simply:
Remove the lid
Hold the sleeve up to one nostril
Pinch the other nostril closed and breathe in!
Get It Risk-Free
Backed by a hassle-free money back guarantee, you have nothing to lose!
Order Your Aromatherapy Inhaler Today and Let the Stimulating Vapors Take You On a Sensational Journey!
REFRESH AND REJUVENATE: Packed with powerful essential oils, these all natural, plant therapy nasal inhalers will instantly soothe your nasal cavity and leave you with a feeling of cool freshness and wellness.
BOOST ENERGY AND ENHANCE BREATHING: Let the refreshing vapors and potent properties of pure essential oils fill your nose and help you enhance breathing, boost energy, improve mental focus, relieve headaches and soothe stomach aches.
ALL NATURAL POWER: Proudly made in the USA using only natural, 100% safe ingredients and therapeutic grade essential oils, each pack includes 3 amazing inhalers with: Peppermint, Eucalyptus, Menthol and natural flavors. Ideally used within 30 days, these essential oil vaporizers will retain their intoxicating aroma for up to 3 months!
TAKE YOUR ESSENTIAL OILS ON THE GO! Small enough to fit in your pocket, bag or on the airplane, these aromatherapy nasal inhalers are perfect for bringing with you everywhere! Take them to the office, at work or at school and enjoy a refreshing energy kick anytime!
LOVE IT OR YOUR MONEY BACK: Order your essential oil nasal inhalers today with peace of mind, knowing that they are backed by a risk-free money back guarantee of complete satisfaction! With nothing to lose, place your order today and start breathing freely!