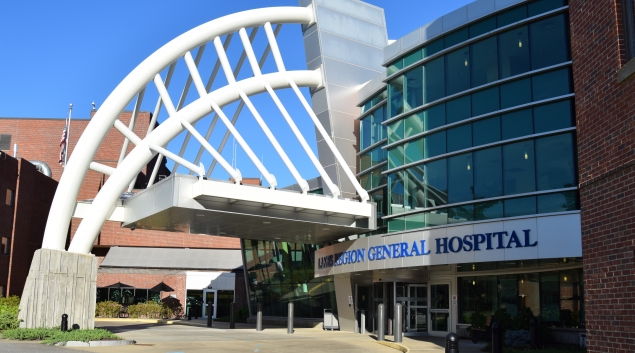 President Donald Trump signed the $ 2 trillion coronavirus stimulus package into law on Friday, after the House voted to pass it.
For hospitals, it means a $ 100 billion influx of cash. But how the money will be able to be used and when it will arrive are questions still being figured out by hospital CEOs and the American Hospital Association.
The AHA said Friday it hoped to have more details and clarity in the coming days.
CEOs on a press call with the AHA on Saturday, March 21, said they needed money quickly – meaning within a couple of weeks – or they would risk not making payroll.
LRGHealthcare President and CEO Kevin Donovan, who was on Saturday's call, said Friday, "There's still not a lot of clarity on what the money can be used for and how it can be given out."
He first heard the funds could only be used for COVID-19 efforts and resources, such as setting up tents and getting test kits, respirators and personal protection equipment.
"That gave me great concern," Donovan said.
An hour later he saw an analysis that the money could be applied to revenue losses, which would include payroll.
"As I talk to folks in the Senate, no one quite knows yet how it's going to be rolled out," he said.
Moody's said Friday that the $ 100 billion to hospitals may be used to offset the suspension of elective and non-critical services, according to Dan Steingart, vice president and senior credit officer.
Elective procedures provide the bread and butter of revenue for most hospitals.
Donovan originally thought elective surgery cancellations would affect an estimated 30-40% of revenue for the two hospitals in the Lakes Region system. He's found that it has affected more than 50% of revenue.
"Everyone is feeling the same thing we're feeling right now, which is a tremendous drop in elective work," Donovan said. "It's not just the work and the volume, now people seem to be avoiding care at all costs unless they're COVID-19 patients."
Lakes Region has a steady ten suspected COVID patients at any one time. Individuals coming in with legitimate concerns and symptoms are treated as though they are COVID-19 positive and put in isolation rooms. Test results take on average, seven to nine days to come back.
As with other hospitals, Lakes Region has a shortage of tests, face masks and other equipment.
"We're struggling to get our hands on personal protection equipment," Donovan said. "Every day we talk about the plan for the day. Yesterday we were informed we had 400 procedure masks."
These weren't even N95 masks and their number would run out by the end of the day.
"We found a place to buy a case of 500 of them," Donovan said.
The cost of the masks, which four months ago was about 50 cents each, had gone up to $ 7 a mask.
"It's scary for our front line folks," Donovan said. "We live day-to-day."
WHY THIS MATTERS
The federal stimulus measures will give hospitals that treat Medicare COVID-19 patients a 20% payment increase for all services provided. And the planned 2% Medicare sequestration payments cuts to providers will be lifted until the end of this year.
But money to meet payroll, can't wait, or hospitals will have to take measures to stay open.
The Lakes Region system has already started to curtail the number of staff working each day because of the lower volume of elective surgeries and procedures. Workers who have earned time saved, are taking it, Donovan said.
He and the Board of Trustees have had conversations about what happens next, but there are no definite plans.
"If funds get tighter, there will be some changes we will have to make to keep the doors open at all," he said.
The state of New Hampshire has created its own $ 50 million fund geared towards helping hospitals, according to Donovan, who hopes the state funds will be able to tide them over until the stimulus money becomes available.
"I'm very concerned that by the time the money makes it out, it will be too little, too late for us," Donovan said. "We have a problem today; 30- to-60 days from now will not help."
HOW THE STIMULUS PACKAGE IMPACTS INSURERS
The Coronavirus Aid, Relief and Economic Security Act means group health plans and insurance providers will be mandated to cover preventive services related to coronavirus without cost sharing.
The CARES Act builds on the new coverage provisions in the Families First bill, according to Health Affairs. Under Families First, all comprehensive private health insurance plans must cover FDA-approved testing needed to detect or diagnose coronavirus without cost-sharing or prior authorization barriers.
Coverage extends to any services or items provided during a medical visit–including an in-person or telehealth visit to a doctor's office, an urgent care center, or an emergency room–that results in coronavirus testing or screening.
This coverage requirement began on March 18 when Families First was enacted and remains in effect while there is a declared public health emergency.
The CARES Act builds on this requirement, at least for private plans, the report said. The bill broadens the testing that would be covered to include tests provided by labs on an emergency basis; state-developed tests; and any other tests determined appropriate by the Department of Health and Human Services.
Employers and health insurers will be required to pay hospitals and labs whatever their charges are for COVID-19 tests if a contract is not in place. By comparison, Medicare pays $ 51.33 for a commercial coronavirus test, according to Axios.
Twitter: @SusanJMorse
Email the writer: susan.morse@himssmedia.com