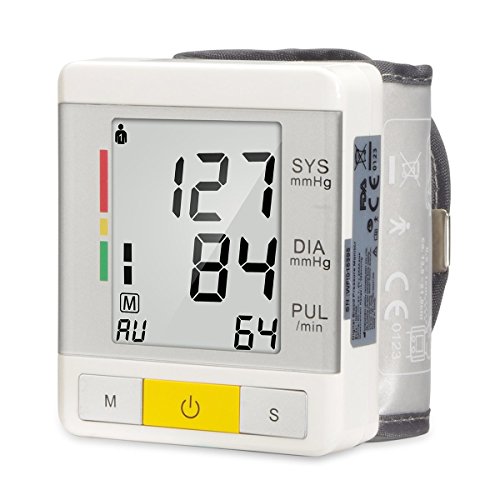 Specifications:
Model: Automatic wrist blood pressure monitor
Display: LCD digital display
Measuring principle: Oscillometric method
Measuring localization: Wrist
Measurement range
pressure: 0-299mmHg
pulse: 40-199 pulses/min
Accuracy pressure: ±3mmHg
Accuracy pulse: ±5% of reading
Memory function: 2×90 sets memory of measurement values
Power source: 2pcs AAA alkaline battery (not include)
Automatic power off: In 3 minutes
Accessories: Instruction manual, storage box
Warranty: Two years from the date listed on the purchased record
Before Taking Measurements:
1. Avoid activity for 5-10 minutes prior to taking measurement.
2. Avoid factors which may affect the reading, including eating, drinking, smoking, exercise and bathing.
3. Always measure on the same wrist (typically your left wrist).
4. Blood pressure fluctuates throughout the day, so be sure to take your blood pressure at the same time each day.
5. Make sure you are in a comfortable, relaxed position, keep the sphygmomanometer in the position of heart.
6. Ensure the cuff is fit snugly around your wrist.
Please Note:
1. Use only with clinically approved cuffs. Sizes can range from 5.3″ to 8.5″.
2. Damaged cuffs or exposed bladders may affect readings.
3. If put the wrist lower or higher than the heart, a false reading will be obtained.
4. With each reading, blood accumulates in the arm and therefore repeated measurements may lead to incorrect readings. If you need to repeat measurements, be sure that they are spaced 5 minutes apart to avoid error.
FDA Approved. Easy to read large LCD display, store up to 90 measurement records between two users, for a total 180 measurements.
Wrist circumference: 5.3″ to 8.5″ (13.5cm to 21.5cm), adjustable cuff fits standard and large adult wrists.
Recommend measure on the left wrist, make the monitor at the same level as your heart for most accurate readings.
Easy to use: fully automatic wrist style, press the Start/Stop button after fitting the cuff properly, less than 1 minute response with an accurate reading. If you need to measure again, please allow 5 minutes between measurements so the blood circulation can recover.
Quality guarantee: 30 days return/refund and 24 months warranty.