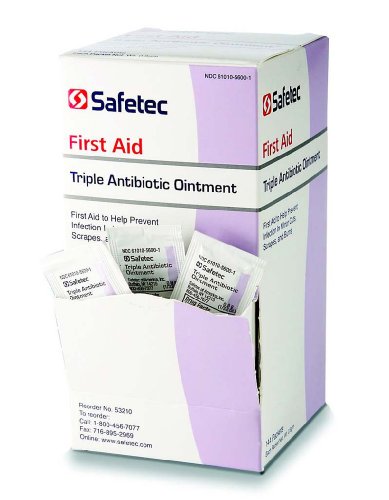 The skins natural healing process can be thrown off by many things such as dirt, dry/damp conditions, or bacteria all preventing the promotion of skin healing and regeneration causing infection and scaring. Prevent this from happening with Triple Antibiotic Ointment.
Featuring individually wrapped gram packers, Safetec's Triple Antibiotic Ointment aid in the healing of minor cuts, scrapes, and burns while working to prevent infection and scaring. Great for any age or skin type, Triple Antibiotic Ointment packets are a convenient and accessible way to care for minor injury needs.
0.9 Gram packets of Triple Antibiotic Ointment.
Promotes regeneration and healing of skin cells.
Prevents infection of minor cuts, scrapes, and burns.
Packets make storing in first aid kits, cars, purses, and backpacks convenient and easy.