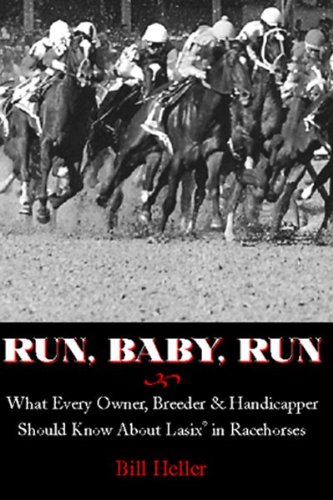 With Run, Baby, Run, Eclipse Award-winning author Bill Heller issues a hard-hitting call for action to the Thoroughbred and Standardbred industries.
Heller examines Lasix® studies done by veterinary researchers; talks with top breeders, owners, trainers, and race officials from the Thoroughbred and Standardbred industries; and looks closely at the recommendations of the AAEP. He explains why horses bleed, and explores the effectiveness of Lasix and its questionable use in Two-Year-Olds. He addresses the issue of whether the drug is used for other purposes — as a masking agent for other drugs, or as a speed enhancer — and seeks the answer to the questions of how Lasix impacts racehorses.
This book is a must for every racehorse owner, breeder and handicapper. In a study of more than 48,000 Thoroughbred starters, Heller reveals that more than 92 percent raced on Lasix, a potent diuretic which can cause a horse to lose as much as 20 pounds before a race.
Ostensibly, Lasix is used to stop a horse from bleeding in its lungs, a common problem. But Lasix does not stop bleeding and, in some horses, doesn't reduce it. Lasix can, however, improve performance drastically from weight loss alone, flush other drugs out of a horse's system and mask others that remain by diluting them. Even more troublesome is that Lasix use may hide a horse's physical problems while doing nothing to heal them.
The argument to allow Lasix on race day in the United States centered on the idea that by helping bleeders, they would be able to race longer. Instead the opposite has happened.
Average starts per runner went into a precipitous decline just as Lasix became popular on the backstretch in the early '70s and, in 2001, reached a new low.
Many horsemen believe Lasix should not be used on two-year-olds or allowed in stakes races. There is a mountain of evidence to support them. Now, for the first time, that evidence is here.