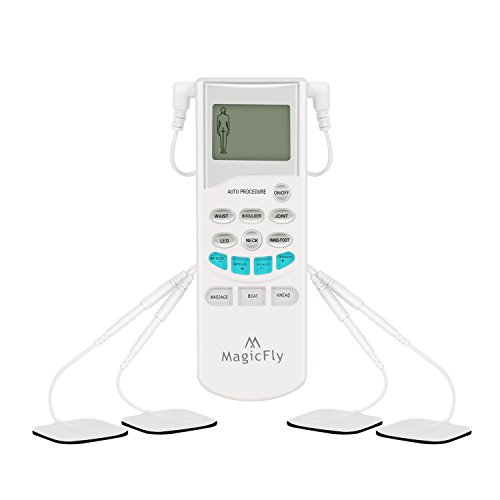 Magicfly Electronic Pulse Massager with Tens Therapy, upgraded model with backlight
What is it?
The Electronic Pulse Massager is a Transcutaneous Electrical Nerve Stimulation or TENS UNIT. TENS units can help back and neck pain caused by trauma or continual strain. TENS therapy can help break this pain cycle by loosening the muscles and releasing any waste products aiding the normal healing process. This massager is a compact, portable, micro-computer controlled device. In addition to your back and neck, it can be used on your shoulders, legs, arms, and feet. It may help to relieve pain and numbness caused by a stiff neck, carpal-tunnel syndrome, and other conditions causing chronic pain. Box includes massager, four attachment pads, 2 eletrode wires (59 inch length).
It can be used in many areas in your body, including arms, neck and shoulders, back, low back, legs, feet, joints etc. It may help to relieve pain and numbness in the following situations: Stiff neck; Muscle pains from over-exercise or stretch; Numbness from some chronic condition; Carpal-tunnel syndrome; Relieve pain and relax muscle spasms, or may prevent muscle atrophy.
Specifications:
Unit size: 6.6*2.2*0.8 inch
Net weight of the unit: 0.66lb
Power: 3 AAA batteries, DC 6V
Liquid crystal display
Frequency: 60 Hz
Accessories included: 4 electrode pads, 2 electrode wires
Packing: Color box
Box Size:7.87*5.3*7.7inch
Package including:
Electronic Pulse Tens Massager X 1
Attachment Pads X 4
eletrode wires (1.5m length) X 2
Instructional Guide X 1
Effective tens unit muscle stimulator — Six Auto Modes (stimulation programs) and adjustable speed and intensity
Three selectable massages tens unit, High frequency stimulation to relieve pain – Portable, Handheld TENS Unit Muscle Stimulator for Pain Management – Treats Tired and Sore Muscles in Your Shoulders, Neck, Back, Waist ,Legs, and more
LCD shows massage style, intensity and time remaining, With backlight function. Attachment pads included. Power: 3 AAA batteries(included);
Not for medical use. Intended for use in sports and/or aviation, This TENS (Transcutaneous electrical nerve stimulation) massagers seem a bit like pseudoscience, but every time when you use one occasionally after exercising, and I'm pretty sure it helps reduce muscle pain. At the very least, it feels cool.
FDA OTC Approval: FDA 510K approved K131921 OTC — Your Satisfaction is Guaranteed 90 days as the warranty