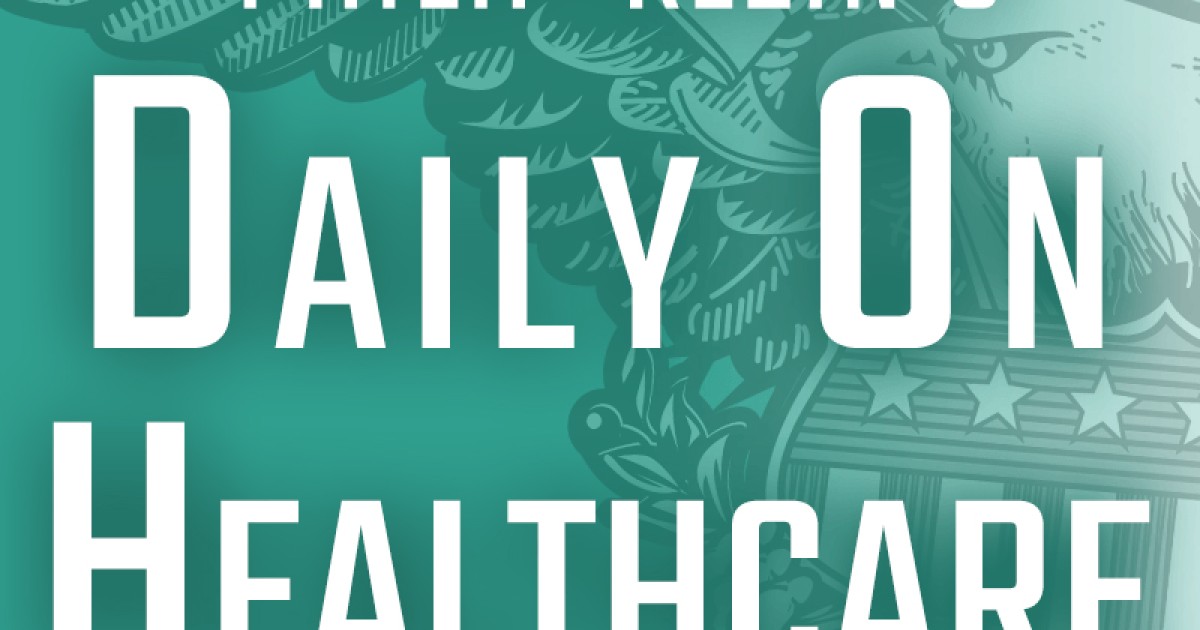 Be more of an insider. Get the Washington Examiner Magazine, Digital Edition now.
SIGN UP! If you'd like to continue receiving Washington Examiner's Daily on Healthcare newsletter, SUBSCRIBE HERE: http://newsletters.washingtonexaminer.com/newsletter/daily-on-healthcare/
US healthcare spending rises to $ 3.5 trillion in 2017. That equals out to about $ 10,739 per person, according to an annual report released Thursday by the Centers for Medicare and Medicaid Services. Healthcare spending growth was 3.9 percent for the year, below the 4.8 percent rate in 2016 and near the slow rates seen in the years just after the financial crisis. CMS actuaries attribute the slowdown to people using less healthcare goods and services, including fewer visits to the doctor's office and to hospitals, and to lower spending on prescription drugs. The share of gross domestic product devoted to healthcare spending was 17.9 percent in 2017, similar to the share recorded in 2016. The share was largely unchanged because the economy grew 4.2 percent in 2017, compared to just 2.7 percent a year earlier. During the post-recession years from 2008 to 2013, the rate of growth in healthcare spending averaged 3.8 percent. This amount represented a historic low and was often touted by officials under the Obama administration. Spending accelerated in the two years that immediately followed, however, largely because Obamacare went into effect, and also because spending on drugs reached a record high. During those years, healthcare spending growth averaged of 5.5 percent, outpacing GDP growth.
Drug spending stays almost flat under Trump. Spending on prescription drugs was nearly flat during President Trump's first year in office, according to the latest report from nonpartisan government actuaries. In 2017, drug spending rose by 0.4 percent to $ 333.4 billion, the Office of the Actuaries at the Centers for Medicare and Medicaid Services reported Thursday. That was the lowest rate of growth in prescription drug spending since 2012, when it was 0.2 percent.
The slowdown in drug spending had begun in 2016, during former President Barack Obama's final year, after rapid growth during the two previous years.The reversal represents a large shift from the years that immediately preceded it, when big price increases were the norm. Prescription drug spending grew by 8.9 percent in 2015 and by 12.4 percent in 2014 before slowing to 1.3 percent in 2016.
Why did the growth in spending on drugs slow? Part of the slowdown in drug spending is attributable to a slower rate of growth in the number of people taking prescriptions. In 2016, prescription uptake grew 2.3 percent, and in 2017, it grew only 1.8 percent. This shift reflects pressure amid the opioid crisis, which claimed the lives of more than 40,000 people in 2017. More than 2 million people in the U.S. are addicted to prescription opioids, and the government and advocacy groups have been pressuring doctors and hospitals to prescribe less of them.
"The numbers of prescription dispensed for pain had a large impact on the trend," said Anne Martin, lead author of the report who is an economist in the actuary office, referring to lower drug spending. "A lot of that did have to do with the opioid epidemic and greater tightening of those types of prescriptions being dispensed." Also, fewer types of other prescription drugs were given out, more lower-cost generics hit the market, and fewer prescriptions were written for high-cost drugs, including those that cure the liver disease hepatitis C. Fewer hepatitis C drugs were given out in 2017 because the people who took them in the years prior were cured and didn't need the medication anymore.
Welcome to Philip Klein's Daily on Healthcare, compiled by Washington Examiner Executive Editor Philip Klein (@philipaklein) and Senior Healthcare Writer Kimberly Leonard (@LeonardKL). Email dailyonhealthcare@washingtonexaminer.com for tips, suggestions, calendar items, and anything else. If a friend sent this to you and you'd like to sign up, click here. If signing up doesn't work, shoot us an email and we'll add you to our list.
Trump administration reaches final decision on risk adjustment program, despite pending litigation. The risk administment program will continue under the same structure that was set in 2018, CMS announced Friday. The roughly $ 10 billion in risk adjustment payments are intended to reduce incentives for insurers to try to bring in only healthy customers and avoid customers with pre-existing illnesses. Insurers who have healthier customers chip into a fund to alleviate costs for those whose customers need more expensive medical services. The Trump administration announced July 7 that it was putting the program on hold, a move blasted by Democrats as "sabotage" and that worried insurers, who said they would face too much uncertainty in pricing plans. But CMS said that it was pausing the payments because of a court ruling in February that found the formula used to calculate the payments was flawed. It lifted the hold a couple of weeks later following criticism, and invited feedback before issuing the final rule Friday. Seema Verma, CMS administrator, said in a statement that the rule "continues our commitment to provide certainty regarding this important program, to give insurers the confidence they need to continue participating in the markets, and, ultimately, to guarantee that consumers have access to better coverage options."
Maternal health bill heads to Trump. Congress has sent the Improving Access to Maternity Care Act to Trump's desk. The bipartisan bill encourages more OB-GYNs to go to underserved areas, including rural parts of the country, where counties have difficulty accessing maternal care.
Congress quickly passes two-week funding bill to avoid shutdown. The House and Senate on Thursday quickly approved a two-week extension of funding for the federal government in order to avoid a partial government shutdown that otherwise would happen on Saturday. The measure extends 2018 spending levels for seven appropriations bills that fund about 25 percent of the federal government while lawmakers work out a deal for 2019 levels. The remainder of fiscal 2019 government funding, including the Defense Department, was signed into law earlier this year. The House passed by resolution by voice vote around noon Thursday, and the Senate quickly approved it in the same manner less than an hour later. The two-week measure provides more time for Democrats, Republicans, and the president to find an accord on border wall funding. Both parties agreed to the short extension in light of the death of President George H.W. Bush, which forced Congress to pause its work this week.
Employee share of health plan costs rose nearly 2 percentage points in about a decade. In 2008, the share employees contributed to their health insurance premiums was 5.1 percent, and by 2017 that percentage rose to 6.9 percent, according to a study by the Commonwealth Fund. This share rose faster than median income, and employees also took on more in deductibles over that period, rising to an average of $ 1,808 for an individual plan. Employer-sponsored health plans cover 152 million people, or roughly half the U.S. population. The study was conducted through surveys of 40,000 businesses in 2017, 65.8 percent of whom responded.
CDC: 58 million exposed to secondhand smoke. The Centers for Disease Control and Prevention says that progress has stalled in reducing exposure to secondhand smoke, even though progress has been made over the long-term. In 1988, 87 percent of the population was exposed to tobacco smoke, and by 2014 that number fell to 25 percent of people. The report urged states to implement smoke-free laws in public areas and in workplaces.
20 Democratic senators urge FDA to pull flavored e-cigarettes from the market. The FDA must take flavored e-cigarettes off the market to combat its use in young people, 20 Democratic said in a letter to FDA Commissioner Scott Gottlieb. They also urged the FDA to ban flavored cigars and menthol cigarettes, and end the marketing of tobacco to young people. "It is well past time to end the marketing of products that so clearly impact the health of our youth, and we urge the agency to act quickly to make good on its commitment to take them off the market once and for all," wrote the senators, led by Sens. Patty Murray, D-Wash., Dick Durbin, D-Ill., and Ed Markey, D-Mass.
CDC: Tainted romaine lettuce has sickened 52 people over two months. The CDC on Thursday identified nine more people who have become sick as a result of E. coli poisoning from romaine lettuce. A total of 52 people from 15 states have been diagnosed with infections as a result of eating the tainted lettuce since the outbreak started two months ago, according to the government agency. Nineteen of the 52 victims have been hospitalized. Two of those people developed a type of kidney failure. The CDC has not reported any related deaths.
HHS to team up with NASA for healthy outer-space travel. HHS is working with NASA on research that would benefit people on earth and those who travel to the moon and other areas in outer space, the agency announced Thursday. The contract goes beyond what NASA arranged with the National Institutes of Health, involving agencies such as the FDA and the CDC. It will help identify and deal with health risks people might face when they're traveling in space, including heartbeat problems, nutrition, mental health issues, and infectious facing diseases that aren't known.
Information about the Improving Access to Maternity Care Act has been corrected.
RUNDOWN
Portland Press-Herald Judge affirms Medicaid expansion, but sets deadline that LePage won't have to meet
CNBC Obamacare enrollment sinks 11%. Historically low unemployment is, at least, partly to blame
Stat Democrats are suddenly eyeing a valuable pharma asset: its patents
New York Times Irish lawmakers vote to allow abortion, part of landmark liberal shift
Stateline 'Crowdsourcing for healthcare' raises spirits — and concerns
Marketplace With a rise in tick, mosquito and flea-borne infections, come high healthcare costs
Washington Post Trump's new top AG pick would be his daughter's boss at Justice
The Associated Press Generic drugmaker to sell alternative to EpiPen injectors
FRIDAY | Dec. 7
Dec. 6-7. 1300 Pennsylvania Ave. NW. Medicare Payment Advisory Commission public meeting. Details.
Dec. 5-7. Chicago. National Center for Complex Health and Social Needs conference on "Putting Care at the Center." Details.
Noon. Dirksen G-50. Alliance for Health Policy Congressional Briefing on Aging in America. Details.
TUESDAY | Dec. 11
10:15 a.m. 2322 Rayburn. House Energy and Commerce Subcommittee on Health hearing on "Implementing the 21st Century Cures Act: An update from the Office of the National Coordinator." Details.
2:30 p.m.1225 I St. NW. Bipartisan Policy Center event on "Financing the Public Health Infrastructure." Details.
THURSDAY | Dec. 13
10 a.m. 2154 Rayburn. Subcommittee on Healthcare, Benefits, and Administrative Rules and Subcommittee on Government Operations joint hearing on "Exploring Alternatives to Fetal Tissue Research." Details.