JUST one person remains sick with coronavirus in the Western NSW Local Health District, health authorities confirmed on Wednesday morning.
The person lives in the Orange local government area and is receiving medical care, but is not in hospital.
Of the 45 people who were diagnosed with COVID-19 in the region, 43 have now made a recovery, while one person died from the virus earlier this month.
Bathurst has had a total of nine cases, all of them recovered.
Across the region, 12 local government areas have had at least one case of the virus, while a number have had none at all, including Cowra, Forbes and Oberon.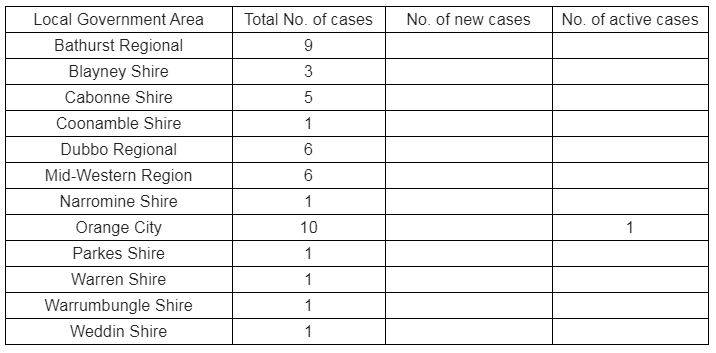 A Central West woman who caught COVID-19 while on the Ruby Princess cruise said she feared for her life while sick.
Meanwhile, across Australia, more than 6738 cases have been recorded, but around 1100 are active.
Of the active cases, 109 are in hospital, with 42 in intensive care.
Earlier this week, NSW Premier Gladys Berejiklian announced an easing to COVID-19 restrictions that will allow two visitors to travel anywhere in the state to visit family and friends at their home.
Tips from the health district
Clean your hands thoroughly for at least 20 seconds with soap and water, or an alcohol-based rub
Cover your nose and mouth when coughing and sneezing with tissue or a flexed elbow
Avoid close contact with anyone with cold or flu-like symptoms
Stay home if you are sick
Keep your distance from others as much as possible through social distancing.
We have removed our paywall from public health stories relating to the coronavirus. This is a rapidly changing situation and we want to make sure our readers are as informed as possible. If you would like to support our journalists you can subscribe here.