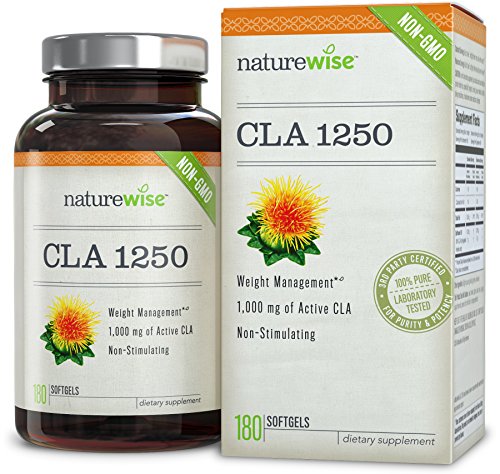 What is CLA? Conjugated linoleic acid (CLA) is a polyunsaturated fatty acid naturally found in beef and dairy products. Most CLA dietary supplements are made from safflower oil. Results from well-designed clinical trials suggest that CLA may reduce body fat mass.* A Wise Tool for Your Weight-Loss Goals Although there is no magic bullet for weight loss, there are tools to supplement diet and exercise. Conjugated linoleic acid (CLA) is a polyunsaturated fatty acid that has become a popular weight management supplement because of its potential ability to reduce body fat.* The active ingredient in our NatureWise formula, CLA, is natural and non-stimulating, making it a preferred alternative to other weight management products that can carry undesired side effects. NatureWise CLA 1250 is always guaranteed non-GMO and gluten-free. A Certified Source of CLA Beef and dairy are natural sources of CLA. However, changing agriculture and processing standards may decrease these levels, making it difficult to obtain from food alone, which is why CLA has become a popular supplement. NatureWise CLA 1250 uses 100% pure safflower oil, premium quality throughout, extracted from trusted, non-GMO sources. We mandate each batch be standardized to 80% active CLA, ensuring you are getting the highest quality and most effective product available. Third Party Tested for Purity and Potency NatureWise maintains one of the most robust manufacturing safety programs in the industry. All NatureWise products are tested by specialized ISO 17025 third party laboratories for purity and potency, as well as physical, chemical, and microbial contamination, guaranteeing the highest standards for quality and safety. The NatureWise Difference NatureWise is a natural supplements company committed to delivering industry-best products and world-class customer service. With every NatureWise purchase our customers gain access to an extensive team of personal customer service professionals, available to help with any questions or comments regarding our products. At NatureWise we are passionate about helping people live healthier. Our products are designed to work best as part of an overall health and wellness program. Achieving a healthy you involves a balanced diet, regular exercise, and finding a source of support to help you reach your personal goals. Our NatureWise Pledge to You As a savvy consumer, only the best supplements—standardized, pure, and certified—make it on your shopping list. At NatureWise, we wouldn't expect anything less. We apply the same oath of purity to every NatureWise product, including our NatureWise CLA 1250.
Conjugated linoleic acid (CLA) is a polyunsaturated fatty acid that is thought to play a role in reducing body fat, increasing lean muscle mass and improving exercise performance.
CLA supplementation is becoming popular with nutritionists and fitness experts for its potential as a weight loss and energy enhancing supplement.
When combined with exercise, studies suggest that CLA may stimulate the breakdown of stored body fat and block new fat cells from growing.
As a non-stimulating, all natural weight loss supplement, NatureWise CLA 1250 from safflower oil is a safe alternative to diet pills that may carry undesired side effects.
NatureWise 1250mg CLA safflower oil capsules can be used as a fat burner for men and women. As with any dietary supplement, you should consult your healthcare provider before use, especially if pregnant, nursing, have a medical condition, taking medications, or have known adverse reactions or allergies. For some, CLA may cause stomach upset, diarrhea, nausea, and/or fatigue.