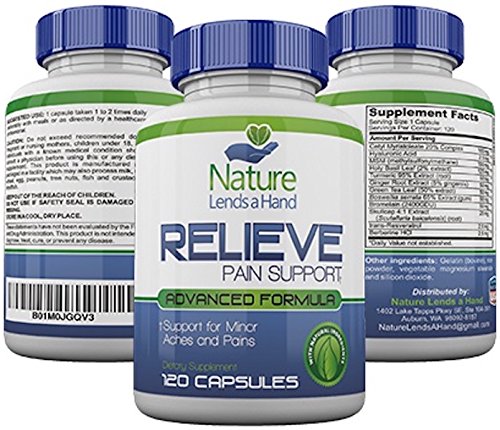 The Secret to Ending Your Relationship with OTC Pain Relievers
No more worrying about all the side effects of over-the-counter pain relievers and anti-inflammatories. With RELIEVE Natural Pain Relief you get safe, effective relief from pain and inflammation without all the harmful side effects.
Just two capsules daily – it's time to ditch those sticky pain relief sprays, roll-ons and gels.  take two RELIEVE capsules daily and get the quick relief you need.
12 natural, non-habit forming ingredients that are well known among naturalist professionals combine to ease your discomfort, quickly and safely.
Supports healthy joints, cartilage and immune function; works to relieve common back pain, neck pain, headache pain (including some migraines), leg pain, shoulder pain, TMJ pain, tooth pain, muscle aches and pains and even menstrual cramps!
Made in the USA with the highest level professional grade products!  A full 60 Day Supply if you use it every day.
No more putting your life on hold because of pain, inflammation and discomfort.  Your SATISFACTION IS GUARANTEED; RELIEVE is sold only by the manufacturer; if you are not completely satisfied, return the product within 30 days for a full refund.  No questions asked.
Try RELIEVE today and pick up one for a friend or family member! 
RELIEVE, the natural pain reliever designed with you in mind.
QUICK-ACTING, NATURAL, EFFECTIVE PAIN RELIEVER AND ANTI-INFLAMMATORY WITHOUT ALL THE HARMFUL SIDE EFFECTS. RELIEVE's natural ingredients have been successfully used since ancient times by Ayurvedic, Chinese, and Natural Health Practitioners. RELIEVE supports healthy joint and cartilage function, delivering relief from common back pain, joint pain, neck pain, headache pain, shoulder pain, leg pain.
PROVIDES NATURAL, SAFE, RELIEF FROM PAIN AND INFLAMMATION. RELIEVE's safe, but effective, herbal formula also delivers relief from TMJ pain, tooth pain, nerve pain, menstrual cramps, and muscle aches and pains due to over-exertion!
NO MORE MESSY ROLL-ONS, SPRAYS OR GELS – RELIEVE COMBINES TWELVE ACTIVE INGREDIENTS IN ONE. Pain Relief Gels, Sprays and roll-ons can be awkward to use, but RELIEVE is simple to take anytime, anywhere, and provides fast relief! No need to buy or take multiple products to get the relief you'll find in just two daily RELIEVE capsules.
USES NATURE'S INGREDIENTS TO TARGET PAIN AND INFLAMMATION RELIEF. Research shows that the active natural ingredients in RELIEVE combine to target pain, inflammation and are also thought to cushion and lubricate joints.
FREE BONUS! Don't miss your opportunity to get up to two FREE Reference Guides when you purchase RELIEVE Pain Support – a comprehensive reference guide detailing all the ingredients in RELIEVE's pain fighting formula, as well as our latest, "10 Tips for Natural Pain Relief".