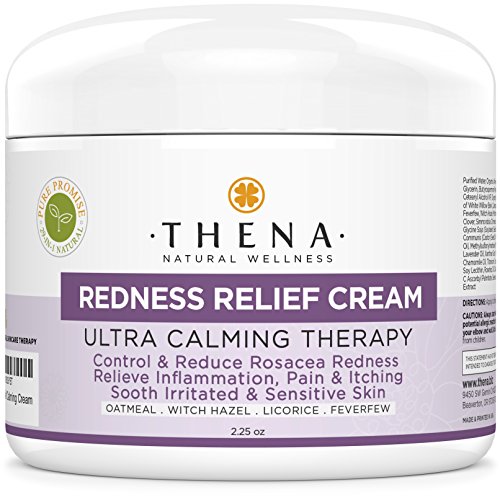 Thena Natural Wellness Redness Relief Calming Oatmeal Face Skin Cream Day Lotion For Sensitive & Dry Skin, Natural Facial Redness Corrector & Reliever For Dermatitis, Eczema Therapy, Rashes, For Men & Women
Our customers said:
"I have very red irritated skin. I've seen a few doctors and a dermatologists and have been prescribed medicine that has helped, but my cheeks & nose still get red. I started using this at night and my prescription stuff in the morning and am seeing a lot of improvement. I like the natural ingredients and it doesn't sting or irritate my skin."
"This is the first product I've tried that soothes the itch of my rosacea. I got it late I life. It also leaves my face feeling soft, smooth and moisturized."
What makes our Redness Relief Calming Soothing Face Cream effective:
• RAPID RELIEF FOR RED SENSITIVE SKIN, LONG LASTING HYDRATION
• REDUCE SKIN SENSITIVITY & RESTORE HEALTHY CLEAR SKIN AT THE SOURCE
• NATURAL ANTI INFLAMMATORY HEALING PROPERTIES, RELIEVE INFLAMMATION WITH NO SIDE EFFECTS
100% Natural Colloidal Oatmeal ~ a skin protectant ingredient used for centuries for soothing relief to relieve itch & irritation, gentle & rosacea friendly
With Lavender, Witch Hazel, Chamomile, Calendula, Rosehip, Organic Shea Butter, Aloe Vera ~ known to soothe sensitive, itchy skin, heal rosacea naturally and effectively
• #1 NATURAL ANTI AGING DAILY FACIAL MOISTURIZER & FACE CRÈME FOR SENSITIVE SKIN WITH HYALURONIC ACID & Q10
•NON-COMEDOGENIC, HYPOALLERGENIC, LIGHT WEIGHT, NON GREASY
Backed by Money-Back Guarantee
RAPID RED RELIEF FOR RED SENSITIVE SKIN, LONG LASTING HYDRATION – Instantly calm & soften dry, tight, itchy skin for long lasting comfort, provide immediate relief from stinging, itching, pain sensations, deeply hydrate, moisturize and protect inflamed skin damaged skin, prevent future flare ups & skin irritation.
COMBAT SKIN SENSITIVITY & RESTORE HEALTHY RADIANT SKIN AT THE SOURCE – Our proprietary plant based essential oil blend contains healing nutrients similar to those found naturally in skin to actively regenerate new skin cell growth and increase collagen production in the dermis layer of your skin, strengthen and maintain the skin's natural moisture barrier, restore visibly hydrated, smoother, softer, healthier skin.
RELIEVE INFLAMMATION WITHOUT SIDE EFFECTS – Our proven advanced natural inflammation fighting formula is comprised of powerful natural anti-bacterial, antifungal, anti-irritant & anti inflammatory calming properties that specifically target reactive skin: organic aloe vera, white willow bark, calendula, chamomile, colloidal oatmeal, licorice, feverfew extract, clary sage and witch hazel.
DAILY DEFENSE FACE MOISTURIZER, PROTECT YOUR SKIN AGAINST ENVIRONMENTAL AGGRESSORS THAT CAN TRIGGER SENSITIVITY – Featured high performance antioxidants Q10 and hyaluronic acid that work great to neutralize harmful free radicals and get well nourished overnight, protect hyper-sensitive skin from sunlight & external irritants that can aggravate dry and sensitive skin, restore brighter and rejuvenated complexion, effective for daily use morning and evening after cleansing or under makeup.
DESIGNED FOR SENSITIVE SKIN, ABSOLUTE SATISFACTION GUARANTEED – Proudly made in USA, our products are cruelty free, no colorants, irritants, non-comedogenic, hypoallergenic, light weight, readily absorbed. Try Redness Relief Ultra Calming Face Creme today, if you don't experienced noticeable improvement, simply send us the request and we will immediately process full refund with no question asked. Limited Time Bundle & Save When Purchase Oatmeal Soothing Bath Salts For Eczema & Psoriasis.