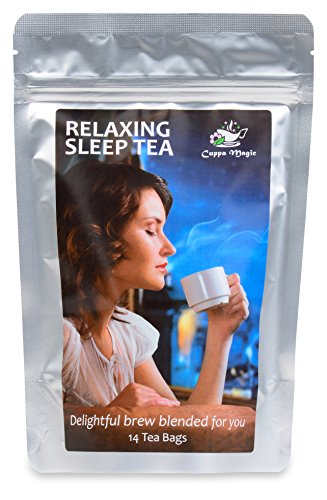 IS YOUR BODY DEPRIVED OF SLEEP?
A CUP OF TEA WOULD BE A NICE NATURAL REMEDY!
Let it soothe your mind and body, increase healthy sleep and replenish your stores of vitamins, minerals and antioxidants. So brew the tea, grab a book and relax in bed
RELAXING SLEEP TEA BY CUPPA MAGIC
Our magical properties are: Anti-depressant, anti-inflammatory, anti-bacterial, anti-oxidant, anti-viral, anti- fungal, anti-irritant, antibiotic & anesthetic
The following are high in vitamins and minerals and known to help:
Chamomile: stress and sleep disorders – gastrointestinal disorders including ulcers – menstrual pain – reducing rashes, pimples and scars
Ginger Root: stomach upsets, indigestion & nausea – fight infections – lower cholesterol – improve brain function
Saffron: promote learning & memory – cell formation and repair – maintain blood pressure – disease prevention
Licorice: heal ulcers – relieve pain and stress – calm liver inflammation – PMS
Fennel Seeds: reduce toxic effect of alcohol – digestive disorders – as appetite suppressant – cough & phlegm problems
Rose Buds: clear toxins from internal organs – prevent infections – fight depression & bring inner peace – clear acne and moisturize the skin
Spearmint: improve circulation, reduce stress on blood vessels – fresh breath – nervous strain, fatigue – hormonal balance
Rose Hips: reduces pain, stiffness and joint inflammation – respiratory problems – boost immunity
Lemon Grass: hydrates the skin – eye problems – relax the senses decreasing stress – boost metabolic process aiding digestion
Tulsi Holy Basil: detoxifying and purifying – digestion – relieve headaches – prevent kidney stones by reducing uric acid
Stop counting sheep, get a solid 8 hours sleep, wake up feeling amazing
Extremely effective at promoting a calm sleepy state
RELAX, REJUVENATE & DETOX WHILE YOU SLEEP
• SLEEP DEFENCE SYSTEM – 100% ORGANIC TEA with Ginger – Lemongrass – Saffron – Fennel – Licorice – Holy Basil – Chamomile – Rosebuds – Spearmint. Are those sleep demons keeping you awake with insomnia symptoms. Do you crave relaxation and stress reduction. Look no further for a great anti depression tea.
• STRESS MANAGEMENT – Great stress reliever and treatment of anxiety – Makes ideal relaxation gifts or stress relief gifts – Soothing – Calms your nerves – Natural relaxer – Supports emotional balance – Fall asleep easily and wake up refreshed – Aromatic & comforting flavor – A perfect way to end a busy day!
• DELICIOUS HERBAL NATURAL SLEEP AID – balance of subtle fragrant flavors & soothing aroma which fills your entire room. The aromatherapy & relaxation starts immediately you open the pouch. Magic bursts out once the water hits the teabag – a delight for all the senses
• DRUG FREE – Natural side effect free insomnia treatment – easier and better way to relieve stress from sleep disorders and anxiety attacks – avoid taking addictive & damaging medication – Oxygen purified natural tea bags – no strings attached to avoid contamination – Healthy organic herbal tea.
• NO WORRIES – Incredibly effective for most people – your body chemistry plays a part in how you react to different things – If it doesn't help you, we understand – Know that you are protected by our 60 day refund guarantee – Say goodnight to insomnia – Happy dreams!