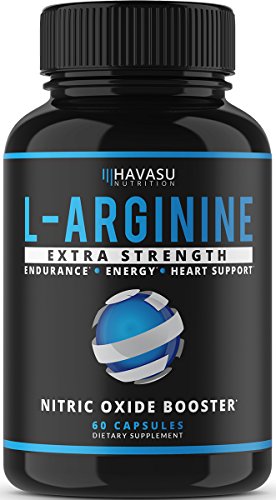 L ARGININE EXTRA STRENGTH – THE MOST POPULAR FORMULA AVAILABLE
Experience the Extra Strength benefits of our potent L Arginine complex that contains two forms of Arginine: Arginine HCI & Arginine Alpha Ketoglutrate, combined with L-Citrulline, a precursor to Nitric Oxide production, and cayenne, clinically proven to help with circulation and, in turn, muscle building. We have combined the two best NO forms with Citrulline to provide the ultimate synergistic blend and to ensure maximum potency and health benefits. Our superior L Arginine formula is designed to boost Nitric Oxide levels, increase energy and hormone levels, improve peak athletic performance and build lean body mass. You will not find any artificial ingredients or preservative in our L Arginine capsules, only the most potent all-natural ingredients available. So the next time you take out your Havasu Nutrition L Arginine bottle, know that it is only the highest quality ingredients you are fueling your body with.
✓ Boost Nitric Oxide Levels & Expand Blood Vessels
✓ Support Metabolism and Endurance
✓ Increase Vascularity, Vein Popping, and Workout Performance
✓ Support Peak Athletic Performance and Lean Body Mass
OUR CUSTOMER COMMITMENT – Our primary goal at Havasu Nutrition is to provide the highest quality supplements using clinically proven vitamins, minerals, and herbs at a price that works for you. You don't have to compromise the quality when it comes to your health! We are here to walk with you on your health journey and are so confident that you will be satisfied with our products we offer a 100% money back guarantee, no strings attached.
PREPARE TO EXPERIENCE THE EXTRA STRENGTH!
SUPERIOR EXTRA STRENGTH L ARGININE – Our Premium L Arginine stacks Arginine HCI & Arginine Alpha Ketoglutrate with Citrulline, a precursor to Nitric Oxide production. We have combined the two best NO forms with Citrulline to provide the ultimate, synergistic blend of the three key Nitric Oxide ingredients to ensure you are getting ALL that Arginine can offer!
SAFELY SUPPORTS HEALTHY LIFESTYLE & LEAN MUSCLE – L Arginine is an essential amino acid that converts into Nitric Oxide, thereby relaxing blood vessels and improving blood circulation. Often used as a sports nutrition supplement, NO supplementation will expand blood vessels for increased blood flow, which means more oxygen reaches your muscle, brain, heart, lungs, & other organs. MORE blood flow to your muscle means more muscle gains and vascularity, leaving you looking your best.
SUPPORTS BIGGER PUMPS, PERFORMANCE, VASCULARITY AND GAINS – Arginine supports energy levels and lean muscle. By increasing blood flow and relaxing arteries, Arginine is also well known for energy production – perfect for weightlifters, athletes, runners and everyday active people. As men age, muscle atrophy (muscle wasting) naturally occurs – with our extra strength L Arginine formula, you can put an end to the dreaded "aging muscle atrophy."
MOST RELIABLE! Our team has formulated the perfect blend to ensure you are getting the most L Arginine has to offer. Our formula contains NO preservatives, chemicals, artificial ingredients, or sugars so you can trust that you are using an all-natural supplement! It also undergoes a stringent process of third party testing and documentation to ensure each bottle has exactly what it says it has!
100% MONEY-BACK GUARANTEE- Nothing to lose! We are so confident that you will love our Extra Strength L Arginine that we back it with a 60-day money back guarantee, hassle-free. Our formula is proudly made in the USA at an FDA registered facility under strict Good Manufacturing Practice standards.