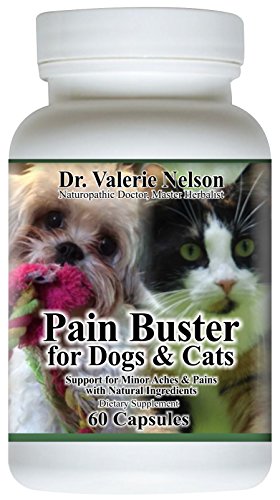 Pain Buster For Dogs and Cats was developed for Dr. Valerie Nelson, Board Certified Doctor of Natural Medicine.
It has been used by hundreds of satisfied pet owners. Most pain medications are very toxic. We have seen results be pretty quick, especially when it is muscle related.
We recommend 6 – 8 weeks to see the Maximum benefits. When you use natural options for your pet, it is not a "bandaid" approach. It is an approach in which you give your Furry Friends the right thing over time to get to the root of the problem and help to re-build their system.
Pain Buster also helps with pain associated with tick bites or any type of connective tissues disorders. All ingredients are plant based and natural anti-inflammatories. Utilizing plant based ingredients are not only good for reduction of pain and helping to re-build connective tissues; it supports the entire immune system.
Dr. Nelson donates a portion of her profits to help the poor. This product goes great with Dr. Valerie Nelson Arnica 1M For Pets and can be safely used together to maximize benefits.
**PROFESSIONAL POTENCY To Maximize Pain Relief For Your Best Furry Friend
**ALL NATURAL ~~ NON-TOXIC For Dogs & Cats for Joint, Arthritis & Hip Pain
**FAST & EFFECTIVE – Without Harmful Side-Effects – Strengthens Immune System
***MSM, HYALURONIC ACID, TURMERIC & MORE ~ Made in the USA
** Goes Great With Dr. Valerie Nelson Arnica 1M For Pet Pain Spray ~ Order Today!