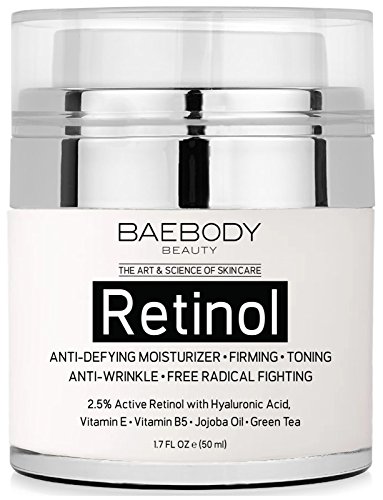 THE STRUGGLE IS REAL!
Everyone wants to look their best. You want to turn back time and achieve the youthful skin you see in old photos. Luckily for you, we have a solution. Baebody is a beauty and lifestyle brand with a desire to promote a natural, healthy and beautiful lifestyle. We want you to look and feel fabulous!
BAEBODY RETINOL MOISTURIZER IS THE ONLY SOLUTION YOU NEED!
Baebody Retinol Moisturizer is a unique blend of Organic and Natural Ingredients. Also known as Vitamin A, Retinol is one of the most effective anti-aging ingredients. Blended with Hyaluronic Acid, Green Tea, and Joboba Oil to reduce the appearance of wrinkles and fine lines. Our Retinol Moisturizer is the best one stop solution or a great addition to your collection.
WHAT SETS US APART?
Besides being tried and true, we've found a healthy and natural way to achieve your desired skin. Our products are made from only the best natural ingredients and organic infusions. The ingredients we use are designed to help you achieve a youthful glow. Our products are manufactured in the United States in a GMP Certified and FDA Registered Facility. Our product is Cruelty Free and Not Tested On Animals.
WHAT ARE YOU WAITING FOR, BUY NOW!!!
ACTIVE RETINOL – Our Retinol Cream Fights The Signs Of Aging With Active Retinol, Leaving Your Skin Smooth, Soft, and Glowing. Retinol's Age-Fighting Capabilities Can Help Diminish Most Signs of Aging Such As Wrinkles, Fine Lines, Uneven Skin Tone and Spots With Daily Long Term Use. Improves Skin Tone and Texture Around Your Face, Eye Area, and Neck While Working To Reduce Discoloration, Acne, Sun Damage and Other Marks and Spots.
71% ORGANIC – Contains Natural and Organic Ingredients Such As Plant Derived Hyaluronic Acid, Wildcrafted Green Tea, Organic Jojoba Oil, Vitamin E, Vitamin B5 and Shea Butter.
SUPER ANTI AGING MOISTURIZER – Moisturize and Hydrate Dry Skin While Fighting Signs Of Aging. Use Day and Night to Reveal A Brighter and Younger Looking You.
ALL NATURAL, MADE IN THE USA – No Fillers, Harmful Fragrances, Dyes or Parabens. Manufactured in a GMP Certified and FDA Registered Facility. Our Products are CRUELTY FREE and Not Tested on Animals.