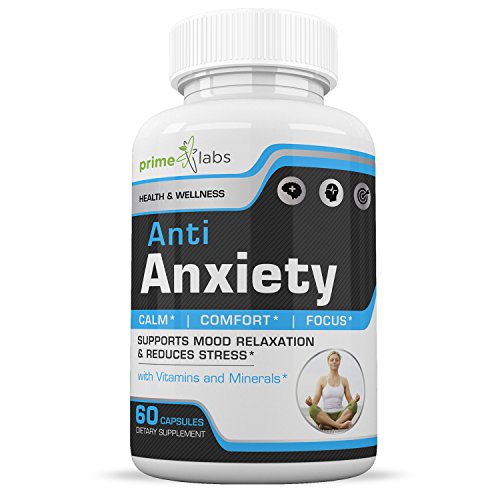 Millions of Americans are affected by some form or anxiety each year, which can lead to physical and mental problems such as tiredness and stress. If you suffer from anxiety stress levels or have trouble staying calm and focused under stress, the Prime Labs Anti Anxiety Formula is the supplement for you. Use this supplement daily to experience a greater sense of confidence and well being and take back control of your life!
Product Features:
Improve Mood, Sleep and Everyday Activities
Boost Focus and Memory
Boost Confidence and Performance
Fight Fatigue and Stress
60 Capsules
Satisfaction Guaranteed
Click 'Add To Cart' NOW to experience the benefits of the Strongest Anti Anxiety Formula by Prime Labs!
The Prime Labs Anti Anxiety Formula helps prevent Panic Attacks, Social Anxiety, Post Traumatic Stress, Shortness Of Breath and promotes a Calming Effect, Relaxed Mood by increasing Serotonin.
Choose a natural alternative to help reduce the anxiety brought on by the day to day stresses of life and feel a greater self of confidence and well being without the side effects.
Contains Vitamin B1, B2, B5, B6, Biotin, Niacin, Calcium Carbonatem Magnesium Oxide, Zinc Oxide, Potassium Gluconate, Rhodiola, Lutein, Ashwaganda, Chamomile, Gaba, Lemon Balm, Skullcap, Hawthorn, Bacopa, Magnolia, Passion Flower, Valerian, L-Theanine, Oat Straw, Mucuna Pruriens, St John's Wort, Hops, Griffona Seed Ext 5-Htp.
Developed and produced in the USA in an FDA registered facility that is third party tested and complies with all current Good Manufacturing Practices so you can be sure you are getting an all natural dietary supplement you can trust.
Prime Labs products are backed by a 30 day no questions asked money back guarantee!