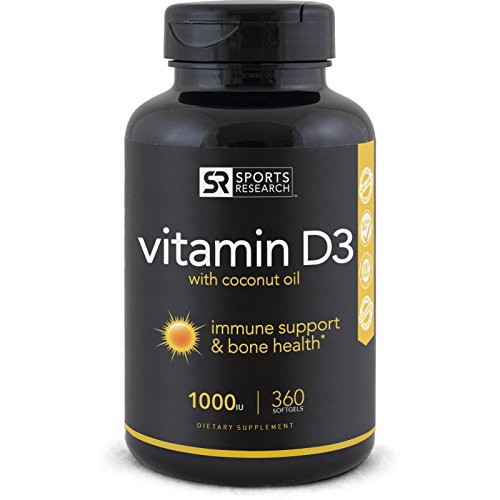 What is Vitamin D?Vitamin D is important for good overall health and strong and healthy bones. It's also an important factor in making sure your muscles, heart, lungs and brain work well and that your body can fight infection*
Studies Suggest Vitamin D3 May:
• Help Maintain Calcium Levels, Which Increase The Strength Of Bones
• Help Maintain Teeth Strength
• Boost Your Immune System
The Vitamin D Council — a scientist led group promoting Vitamin D deficiency awareness– suggests Vitamin D treatment might support Heart, Breast, Prenatal, And Prostate Health As Well.
Researchers from Dublin, Ireland recently conducted a study in which 98% of the participants with obstructive sleep apnea were found to be vitamin D deficient.
Many lifestyle and environmental factors can affect your ability to get sufficient amounts of Vitamin D3 through the sun alone. These factors include
• Pollution
•Use of Sunscreen
• Working long hours in offices
• Less Vitamin D in our diet
ENHANCED WITH COCONUT OIL
This is the first and only Vitamin D3 with Organic Virgin Coconut Oil. Vitamin D3 is a fat soluble Vitamin, and difficult for the body to absorb if not taken with some kind of fat. To help enhance absorption we blend our Vitamin D3 with Organic Virgin Coconut Oil, a healthy fat that the body burns as a pure energy source far more efficiently than proteins, starches, or other types of oils. NOTE: Capsules may appear "cloudy" because of Coconut Oils unique semi-solid state at room temperature.
QUALITY GUARANTEE
This product was made exclusively for Sports Research in a cGMP Certified Facility and each batch is 3rd party independently tested for quality.
Add to Cart Now – It's Guaranteed!
THE SUNSHINE VITAMIN: Sports Research Vitamin D3 delivers the same biologically active form of vitamin D produced in the body as a result of direct sunlight without the risk of unprotected UVB exposure
COCONUT OIL: Vitamin D3 is fat soluble and difficult for the body to absorb if not taken with a fat. To help enhance absorption we blend our Vtiamin D3 with Coconut Oil a "good fat"
BENEFITS: Daily intake of Vitamin D3 is essential for calcium absorption and maintaining strong bones and teeth
OVERCOME DEFICIENCY: As many as 50% of the people living in the United States may be deficient in Vitamin D. Most experts agree that Vitamin D is a powerful membrane antioxidant.*
QUALITY: All Sports Research (SR®) products are made in a GMP Certified Facility and 3rd party tested for quality.