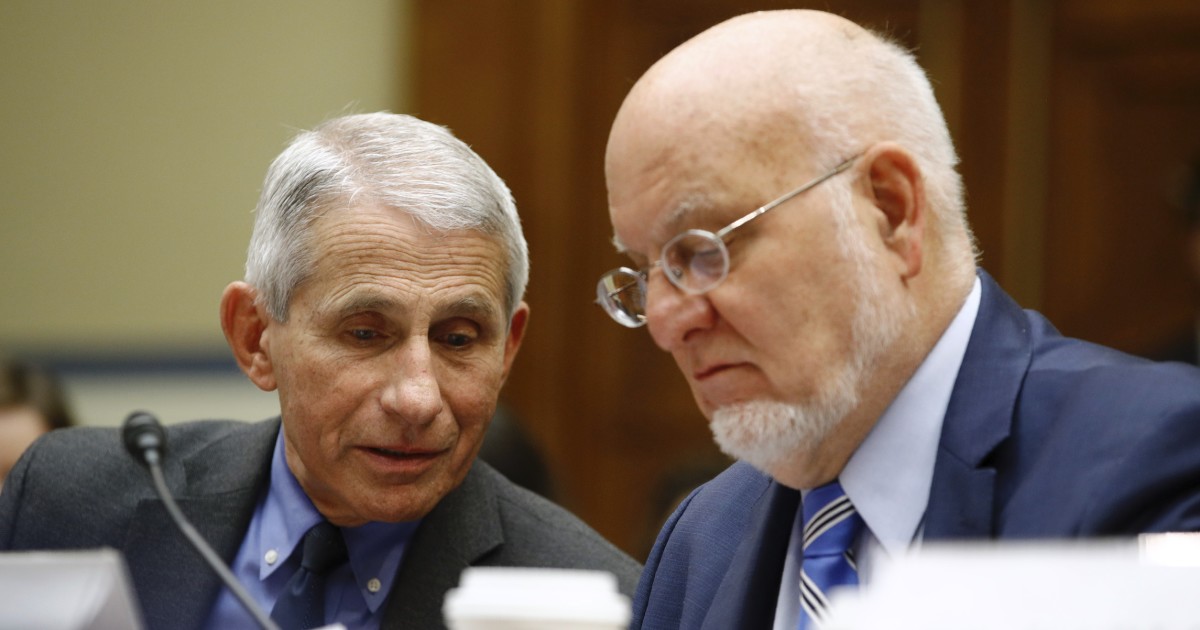 Government health experts cautioned against reopening states too quickly and risking another coronavirus outbreak Tuesday.
"There is a real risk that you will trigger an outbreak that you may not be able to control, which, in fact, paradoxically, will set you back, not only leading to some suffering and death that could be avoided but could even set you back on the road to try to get economic recovery," top government infectious disease expert Dr. Anthony Fauci said in a virtual appearance in the Senate.
Tuesday's hearing, titled "COVID-19: Safely getting back to work and school," occurred as most of the country has entered some phase of reopening and rolling back state stay-at-home orders. The rate of new cases reported each day has been slowing since Thursday, and states that were hit hardest by the pandemic, such as New York, have apparently turned a corner with a lower number of new hospitalizations and deaths each day.
Dr. Fauci and other experts have warned, though, that the United States could see a resurgence of cases in the fall. A vaccine is not yet available, and researchers haven't proven that medications touted by the Trump administration will help COVID-19 patients recover. While the drug remdesivir has shown promise in shortening recovery time, Fauci pointed out that the drug showed only a "modest degree of efficacy."
Fauci told the Senate health committee chairman, Lamar Alexander of Tennessee, that telling college administrators and students they'll have a vaccine by the time school resumes in the fall "would be a bridge too far."
The testimony was in tension with the encouragements President Trump and many Republicans have given states to ease pandemic restrictions quickly. Republican Sen. Rand Paul challenged Fauci, arguing that schools should open as soon as possible because "we've had a relatively benign course for this virus nationwide," with the exception of severe outbreaks in New England.
"But if we keep kids out of school for another year, what's going to happen is poor and underprivileged kids, who don't have a parent that's able to teach them at home, are not going to learn for a full year," Paul said.
"And as much as I respect you, Dr. Fauci, I don't think you're the end-all," Paul told Fauci. "I don't think you're the one person that gets to make a decision."
Alexander and others on the committee have pushed the Trump administration to boost testing in order to speed up economic recovery. Alexander said Tuesday that what the country has done so far with regard to testing is "impressive, but not nearly enough."
Adm. Brett Giroir, the coronavirus task force's top adviser on testing, said the U.S. will have the ability to perform 40 to 50 million tests per month by September "if needed." States may not need that many tests at the ready by the fall, according to Giroir.
"We have to really understand what, where the epidemic is, what the community spread is, before we can estimate the number of tests that are needed," Giroir said.
The U.S. is also contending with the uncertainty of how many people have died due to the coronavirus. Dr. Fauci said that the COVID-19 death toll in the U.S., reportedly over 82,000, is "almost certainly" an undercount.
"Most of us feel that the number of deaths are likely higher than that number because given the situation, particularly in New York City, when they were really strapped with a very serious challenge to their healthcare system, that there may have been people who died at home who were not counted as COVID because they never really got to the hospital," Fauci said.
The number of cases in the U.S. far outpaces that of any other country at almost 1.4 million, according to the Johns Hopkins University tracker.
Los Angeles County's stay-at-home order will remain in place "with all certainty" for the next three months, according to county Public Health Director Barbara Ferrer. The Los Angeles Times reported that Ferrer believes the duration of the order would change only if there were a "dramatic change to the virus and tools at hand."
Meanwhile, county beaches are slated to reopen Wednesday with some restrictions. Sunbathing and picnics will be prohibited, but people will be allowed to exercise on beaches as long as they wear face coverings.
Chinese officials have not yet shared data from test results that may point to the animal origin of the coronavirus, leading politicians to speculate that Beijing is stalling global efforts to pinpoint the source of the pandemic. U.S.-China relations have deteriorated since the outbreak began. Trump, members of his administration, and some senators have alleged that the virus escaped from a virology lab in Wuhan, while the Chinese government and health officials deny the claim. Some Chinese officials have argued that the virus likely came from U.S. soldiers who visited Wuhan.
In a statement to the Wall Street Journal, China's National Health Commission said, "The virus should not be linked to any particular country, region or people."
Authorities in Wuhan, China, where the coronavirus originated, announced a massive testing push in the city after six new cases were confirmed in two days followed by a 35-day streak of no new reported infections. The goal is to test all 11 million residents by the end of the week.
The Treasury Department said Tuesday that the federal government ran a deficit of $ 738 billion in April, which is about 3 times as large as the second-largest monthly deficit on record. So far this year, the government has amassed a $ 1.4 trillion deficit, whereas the entire fiscal year 2019 deficit was $ 984 billion.