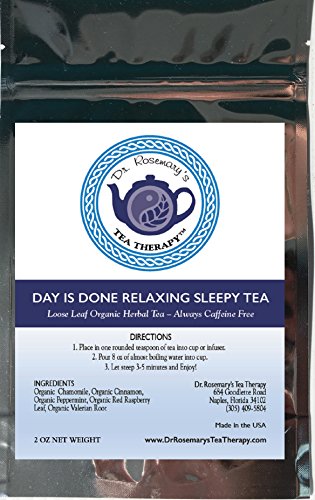 BEING exhausted is no fun…
Actually, it can be a little depressing; between working and keeping up with a family's schedule you can often suffer from low energy, and maybe feel just a little stressed…
IT'S TIME TO CHANGE THINGS!
Replenish your heart, spirit, and body with Dr. Rosemary's Day Is Done Relaxing Blend! Increase healthy sleep, and replenish your own stores of vitamins, minerals, and antioxidants at the same time. By utilizing a specific blend of organic herbs, we bring you better flavor, and better gentler results!
THE OTHER ADDED BENEFITS…
We use herbs to relax and warm the stomach which helps you relax, herbs for cooling and herbs to promotes a deeper more restful sleep and herbs to help you fall asleep.
THE DOCTOR IS IN
Dr. Rosemary is a nationally recognized Board Certified Acupuncture Physician trained in Traditional Chinese Medicine and Herbal Therapy. She is an avid drinker of teas and loves for EVERYTHING to be Organic whenever possible. She has painstakingly developed these recipes over the years for her patient base, and wants to share them with you and those that you love!
GUARANTEED
We want you to be happy, and if you're not, just let us know, and we'll make it right, right away.
Enjoy your FREE tea accessory gift included in each package! Great Value because it makes between 40-50 cups depending on how strong you like your tea – you decide. You can enjoy your tea – HOT or COLD!
REJUVENATE, RELAX, DETOX, AND RENEW WITH THIS AMAZING HERBAL BLEND, TODAY. CLICK THE "ADD TO CART" BUTTON NOW!!
A COMPREHENSIVE BLEND -Dr. Rosemary's Day Is Done Relaxing Blend is, of course, focused on helping you with better sleep, but with the added bonus of detoxification and relaxation as well! Our delicious loose leaf herbal blend is flavored with 5 refreshing herbs blended for a delicious taste, and wonderful results!
A BETTER HERBAL EXPERIENCE – All organic ingredients, vegan caffeine & gluten free for true relaxation of your system.
TESTED AND TRUE -Our formulation is lab tested for quality, and offers true results. Backed by alchemic science and the expertise of Dr. Rosemary, who is a member of the American Pregnancy Association, we bring you a blend that is unmatched in quality!
NO AFTER EFFECTS or DROWSINESS THE NEXT DAY – Contains Valerian Root and Chamomile – used for centuries for sleep disorders!
STRESS FREE GUARANTEE -Our tea is painstakingly made for flavor and effectiveness, and we want you to buy stress free. That's why we offer a 90 day full coverage guarantee! If you find our amazing tea lacking in any capacity, just send it back our way for a full no questions asked refund! It's that simple. Buy today & get a FREE Bonus (Tea Accessory or a Tea Sample) – all randomly selected for you and included at no extra cost!) you'll be glad you did.