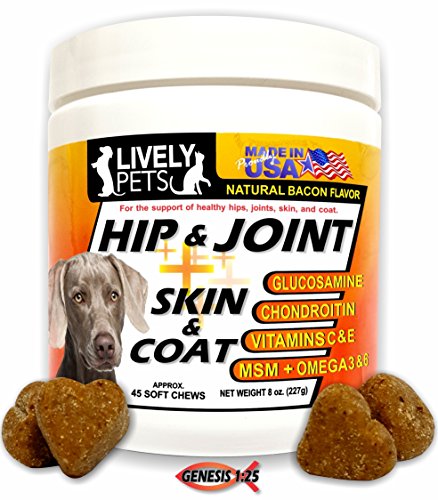 The secret TREATment to keeping your aging pet moving easier! LIVELY PETS Hip & Joint + Skin & Coat is high in the vitamins and minerals needed to keep our best friend's hips, joints, skin, and coat healthy, and is a great asset in preventing and treating Canine Hip Dysplasia as well as other common conditions like oarthritis and skin and coat issues that frequent our best friend's aging years. With ingredients that: -Promote healthy joint, cartilage, and bone formation in maturing pups -Relieve some discomfort and joint inflammation in aging dogs -Helps prevent further destruction to damaged hips and joints -Contain beneficial vitamins and minerals to promote healthy skin and a shiny coat Our products contain all-natural ingredients that are beneficial to our dogs, both young and old. Why choose LIVELY PETS Hip & Joint + Skin & Coat over other brands? Pet supplements are becoming more expensive everyday. Dog owners are spending twice as much on several costly products to get the right ingredients and benefits for their pets. GET MORE FOR YOUR MONEY WITH LIVELY PETS! 2 POWERFUL SUPPLEMENTS IN 1! All of our products are made right here in the USA and are safe for our best friends! It is important to note that no amount of consumed nutrients from LIVELY PETS soft chews or any other supplement, will correct structural damage to a dog's joints. If there are calcium deposits, scar tissue, cartilage tears and dissolution, or contour changes to the bones at the joint surfaces from long-term abnormal forces being applied, these abnormalities will remain present and will continue to affect the animal regardless of nutritional intake. Although you cannot reverse these changes, you can still supplement your dogs diet with LIVELY PETS Hip & Joint + Skin & Coat to help with pain management and help prevent further damage. MADE IN THE USA We stand behind our hip & joint chews for dogs with a 100% MONEY BACK GUARANTEE.
POWERFUL , NATURAL, INGREDIENTS MADE IN THE USA – Our soft chews have all-natural ingredients like Glucosamine, Chondroitin, MSM, Omega 3 & 6, Plus all the necessary vitamins and minerals a maturing dog's body needs for healthy joint and bone formation and to help prevent the painful effects of Hip and Joint disease down the road. Increase your senior dogs MOBILITY, FLEXIBILITY, and AGILITY with our premium bacon flavored treats!
HEALTHIER, SHINIER COAT and CLEARER SKIN – Help your pet's DRY, ITCHY SKIN from the inside out! Most skin issues can't be taken care of with shampoos and conditioners alone. Give your pet a soft chew TREAT that will give him a healthy coat and treat his DRY SKIN at the source! Best Supplement for DOGS WITH DRY SKIN!
POWERFUL PAIN RELIEF- Our soft chews are one of the best all-natural pain relievers and anti-inflammatories you can get without a costly Prescription! Our easily absorbed formula is a powerful all-natural pain medicine for dogs, as well as a great all around dog vitamin for both senior and growing dogs alike! Get away from the oily mess of liquid supplements! Our soft chews are a real TREAT! Best Hip Joint Glucosamine Supplement for Dogs!
GREAT TASTING DOG TREATS – Dogs love the all-natural bacon flavor of LIVELY PETS brand soft chews. Even some picky-eating cats have been known eat a treat or two! What could be better than a treat that increases MOBILITY, AGILITY, and FLEXIBILITY in dogs and provides a healthy, shiny coat!
GLUCOSAMINE, CHONDROITIN, MSM – A powerful pain fighting trio! These 3 ingredients make up the BEST DOG JOINT PAIN RELIEF and DOG JOINT SUPPLEMENTS! Take care of his ACHES and PAINS with our ALL-NATURAL SUPPLEMENT! Also a great source of OMEGA 3 and OMEGA 6! ***BUY MORE SAVE MORE*** ~~ 2 OR MORE 10% OFF ~~ 4 OR MORE 15% OFF…. Order Now RISK FREE!