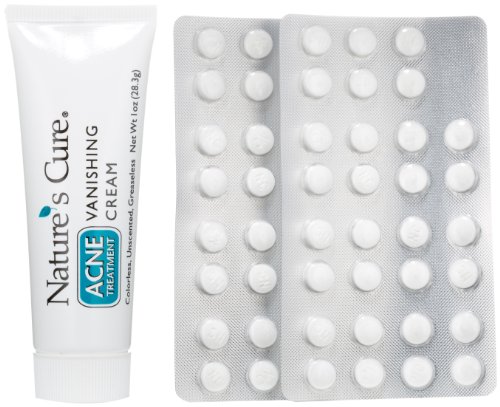 Natural Homeopathic Acne Tablets
Acne Medication Vanishing Cream – Colorless, Unscented, Greaseless
Dermatologist Tested.  Safe and Effective.
Nature's Cure is a unique, two-part acne treatment system that works naturally to clear and prevent acne.
Nature's Cure fights acne with all-natural tablets and a medicated 5% Benzoyl Peroxide cream.
Internal Homeopathic Acne Medicine:  Acne can be caused by internal imbalances due to diet, stress or hormonal changes, especially during monthly cycles.  Nature's Cure tablets are a blend of all-natural ingredients, which stimulate your body's natural defenses to correct these imbalances.  So, the tablets work naturally with your body to help stop acne where it can start.  Nature's Cure tablets do not increase sun-sensitivity and have no side effects.
Topical Acne Medication – Vanishing Cream:  To clear existing acne blemishes, Nature's Cure has a colorless, unscented, greaseless, 5% Benzoyl Peroxide cream.  Nature's Cure Vanishing Cream also contains aloe vera concentrate and allantoin, which help prevent over-drying and aid in the healing process.
Dermatologist Tested:  Nature's Cure is best for people who have persistent mild acne or regularly occurring blemishes.  You will begin to see results after only two weeks and often have noticeably clearer skin after just one month's use. 
For greatest corrective results, use Nature's Cure for two to six months.
Available Without A Prescription:  This package contains a one-month supply of tablets and cream.  Nature's Cure is a unique, two-part system that works inside and outside your body to clear and prevent acne.
Ingredients:
Tablets:  Active Ingredients:  Juglans Regia (walnut) 6x, Antimonium Crudum (antimonious sulfide) 12x, Candida albicans (yeast) 12x, 30x, 60x, 200x, Echinacea angustifolia (cone flower) 12x, Kali Bromatum (potassium bromide) 12x, Ledum palustre (wild rosemary) 12x, Oophorinum (glandular) 12x, Hepar Sulfuris Calcareum (calcium sulfide) 24x, Carbo Vegetabilis (vegetable carbon) 30x, Cimicifuga racemosa (black cohosh) 30x, Cistus canadensis (frost weed) 30x, Graphites (graphite) 30x.  Inactive Ingredients:  Lactose.
Made in accordance with the Homeopathic Pharacopoeia of the United States.
Cream:  Active Ingredient:  Benzoyl Peroxide (5%).  Other Ingredients:  Purified water, Carbomer 940, Allantoin, Aloe Vera concentrate, Diazolidinyl Urea, Disodium Edetate, Dioctyl Sodium Sulfosuccinate, Sodium Hydroxide.
For more information, see our website at naturesource.com
2-part acne treatment system to clear and prevent acne
Natural homeopathic acne tablets
Topical acne medication vanishing cream; unscented
Dermatologist tested; safe and effective
Please read all label information on delivery