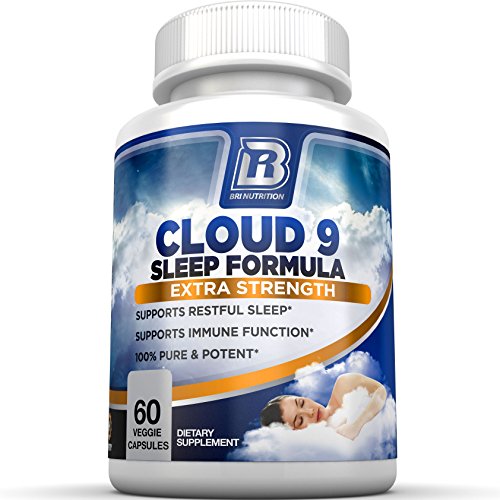 ★★★★★Can't sleep? Help promote a restful state that leads to deep sleep instead of staring endlessly at the clock past midnight, trying to count sheep, or adjusting your pillow for the millionth time. Put the worries of the day behind you and drift into a blissful slumber, so you wake up the next morning feeling like a superstar. Rediscover the benefits of restful sleep, and enjoy the energy level, mood, alertness, and focus that comes along with it. Dream with ease, don't suffer another exhausted day at work, be worry free with a brand you can trust. Allow Cloud 9 from BRI Nutrition to help you meet your sleep goals, so you feel refreshed every time you wake up. Treating yourself right is simple, just take two capsules at night with a full glass of water. Let the L Theanine and Melatonin do their thing. The 60-count extra strength bottle gives you a full month of sleep aide. Backed by our money back refund policy & 60 day 100% satisfaction guarantee so you can shop with confidence. Experience tranquil nighttime rest to achieve your full potential!
★WHY US: We looked at many other sleep supplements on the market and were surprised by the horrible blends. We decided we should source the finest ingredients and sell them at a reasonable price, passing all the benefits on to you. At BRI Nutrition, we don't compromise when it comes to quality. We manufacture in our US, FDA-inspected, GMP compliant, state-of-the-art facility, with strict adherence to good manufacturing practices. Every batch is third party tested for quality assurance.
★WHAT IT IS: Our extra-strength sleep helper encourages a calm and restful sleep cycle for men and women, to help you wake up refreshed and full of energy. You can feel the difference when you awaken the next morning, feeling amazing, rejuvenated, recharged, balanced, and energized. Our tried-and-true formula helps you enter the calm state of mind conducive to deep, restorative sleep. Wake up feeling refreshed with no worries of feeling sluggish in the morning.
★WHATS IN IT: Our supplement is made with a blend of powerful and effective ingredients, and is non habit forming, so it's safe to use as often as you need. We blend 300mg of L-Theanine, 200mg of Valerian root extract, 100mg each of Chamomile, Passion Flower, Hops, Lemon Balm, GABA, 50 mg of L-Tryptophan, and a full milligram of Melatonin in each serving. Simply swallow 2 veg caps nightly and say goodbye to feeling sleepless at night.
★SHARE:Consider ordering one bottle for yourself and another for a friend or loved one. Keep each other relaxed, restful, and ready to face each day feeling awesome. BRI Nutrition stands by every quality product we make. We manufacture only premium vitamins, capsules, pills, tablets, powders, multivitamins, supplements, topical creams, liquids, serums, vegan foods, and extracts for men, women, and children. Check out BRI Nutrition and let us help you today!
★SATISFACTION GUARANTEE: We're so confident that you'll love this product that we offer a 60 day 100% satisfaction money-back guarantee. Try it risk free. Each bottle gives you a 30 day supply of blissful sleep. Now you can feel the difference when you awaken the next morning, feeling amazing, rejuvenated, recharged, balanced, and energized.