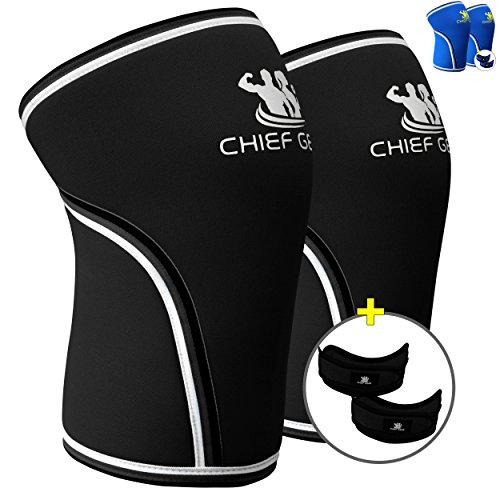 Your knee makes every movement of your leg possible, so it's no surprise that intense workouts can result in knee pain. When the knee gets overworked, inflammation can develop that makes it difficult to continue your workouts, and knee injuries are one of the most common problems that sideline fitness enthusiasts and athletes. A knee brace can help to soothe discomfort, but most knee brace support products also limit movements, making them difficult to use during workouts.
Finally, though, there is a way for you to get ample knee support and cut down on pain while still being able to freely move! THRU FITT Neoprene Knee Sleeves are the answer!
Chief Gear Knee Sleeves are perfect for Jogging, Running, powerlifting, crossfit, weightlifting, bowling, baseball, basketball, wrestling, hockey, cycling, football, golf, tennis, skiing, hiking, soccer, MMA, volleyball, strength training and much more.
Key Features
● Anatomical Shape
● Made of high-quality 7mm neoprene
● Keeps knee joints warm
● Supportive yet flexible
● Stabilizes and enhance mobility for muscles and joints
● Easy To Use
● Machine washable, air dry
● Designed for both men & women
● Sold as a pair
Please refer to the sizing chart in the images above
Stretch your leg and measure the circumference of your knee mid patella.
● S: 11.5″ – 12.7″
● M: 12.7″ – 13.9″
● L: 13.9″ – 15.4″
● XL: 15.4″ – 16.7″
● XXL: 16.7″ – 18″
Select the right size for your needs and order your pair of CHIEF GEAR Neoprene Knee Sleeves!
Important Note:
New Neoprene often has something similar to a "wetsuit smell". Don't worry, this will dissipate over a short time by washing and normal exposure to air.
REDUCE & RELIEF PAIN: Chief Gear Neoprene Knee Sleeves (7mm) help to keep your joints warm and increase blood flow which aids in pain reduction. Whereas, Patellar Knee Straps relieve muscle stiffness, extra soreness & offer rejuvenating relief from arthritis, osteoporosis, tendonitis, pain/discomfort & allowing you to perform at your peak in any situation.
SUPPORT & PROTECT KNEES: Chief Gear provides the best support for both Men & Women, It provides an adaptive level of stabilization and support for the knee and leg area during all sports and fitness activities.it also helps reducing the risk of sudden jerks/twists that can leave you injured.
IMPROVE PATELLAR PERFORMANCE: Knee Joints experience a variety of forces and actions in sports competition and training. The knees are vulnerable to wear, tear and thus injury, especially if you have been active for a number of years. Using Patellar Knee straps, improve muscle timing imbalances. Bracing the knee(s) can also offer mental confidence so the fear of re-injury is diminished.
QUICK MUSCLE RECOVERY: Our Knee compression sleeves Compresses the knee joint & promotes blood flow to help in the muscle recovery & helps in prevention of an injury.
PERFECT FOR DIFFERENT ACTIVITIES: Works equally well for Crossfit training, Weightlifting, Power lifting, Running, Gym, Basketball or any other Sport.