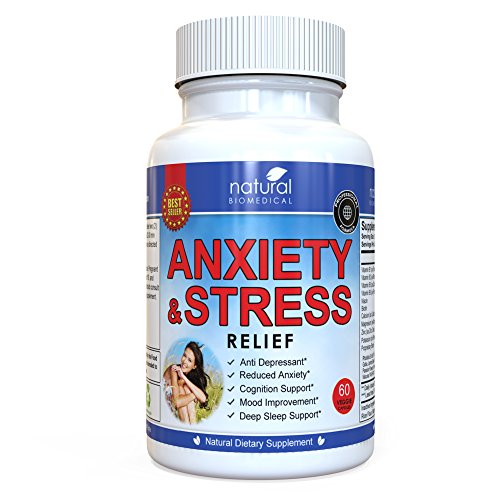 Do You Need a Daily Supplement to Help With Your Anxiety & Stress?
 
Our Anti-Anxiety Pills are Made with Natural Ingredients to Support Moments of Anxiety, Stress, and Panic FAST.
Non-Addictive All The Natural Ingredients Make This Product a SAFE Non-Habit Forming Solution to Those Moments When the Anxiety is Overwhelming. Made with No Artificial Ingredients, No Preservatives, No Addictive Ingredients & No Fillers
• ASHWAGANDHA- an Indian Exotic Herb Used to Relieve Stress & Treatment for Depression & Anxiety
• GABA – Works as an Inhibitory Neurotransmitter in the Brain, Calming Overactive Nerves with Anti-Anxiety Properties.
• CHAMOMILE – Ability to Bind to GABA Receptors and Possess Anxiolytic Properties that Can Reduce Stress and Improve Sleep.
• 5-HTP – A precursor to the neurotransmitter serotonin, for treatment of anxiety and depression.
• ST JOHN's WORT – Commonly Used for Mild Depression
• COMBINATION OF VITAMINS & MINERAL A Large Combination of Ingredients to Help Keep the Body Fit & Relaxed
• & Much More
For A Full List of Ingredients – See the 'IMPORTANT INFORMATION' section below this description area.
• No Risk. Buy a Bottle Today & head to our website to receive our eBook detailing ALL the Ingredients & with Extra Promotional Offers
• CALMING and RELAXING: Supports your Body and Brain's Natural Response to Stress, Anxiety, Panic, and Depression. Calms and Eases Overactive Nerves and Promotes Restful Sleep.
• BEST MOOD SUPPLEMENT for EMOTIONAL WELL BEING: Improve your Well-Being and Happiness. Helps Promotes a Positive Mood.
• FORMULATED to EASE STRESS AND SOCIAL ANXIETY: Crafted with 100% Natural Ingredients Clinically Proven to Ease Stress and Anxiety. Safe for Daily Use.
• 27 POTENT INGREDIENTS including Ashwaganda, GABA, Chamomile, 5-HTP, St. John's Wort, Valerian, and other Herbs, Vitamins and Minerals to Support a Calm Mind.
• HIGH QUALITY and ALL NATURAL: Non-habit forming and Doesn't Cause Fatigue. Made with No Artificial Ingredients, No Preservatives, No Addictive Ingredients, and No Fillers. Gluten Free, Vegetarian and Vegan. 100% Money Back Guarantee. Manufactured in an FDA registered facility. Made in the USA.