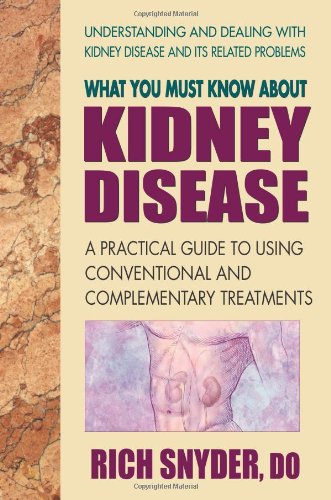 While the news that you or a loved one has kidney disease can be shocking, for over 26 million Americans, it is a reality. After the initial diagnosis, patients and families usually have a myriad of questions about treatment options.
What You Must Know About Kidney Disease is designed not only to answer these questions, but also to provide the up-to-date information you need to cope with this potentially devastating problem.
The book is divided into three parts. Part One provides an overview of the kidneys' structure and function, as well as common kidney disorders. It also guides you in asking your
doctor questions that will help you better understand both status and prognosis. Part Two examines kidney problems and their conventional treatments. Part Three provides an indepth look at the most effective complementary treatments, from lifestyle changes to alternative healing methods.
The diagnosis of kidney disease is the first step of an unexpected journey. What You Must Know About Kidney Disease will help you understand the challenges ahead and
choose the very best treatments available.