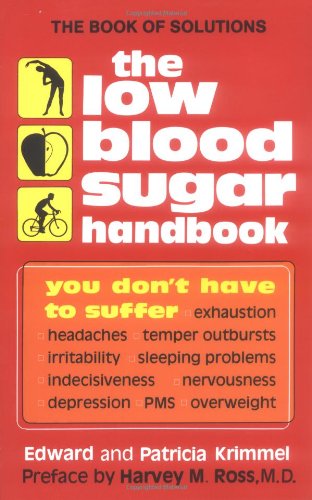 FOR THOSE WHO SEARCH The program outlined in The Low Blood Sugar Handbook is for you. It is an optimum lifestyle not only for functional hypoglycemics (low blood sugar sufferers), but also for those suffering from premenstrual syndrome (PMS) and everyone else who desires a healthy and productive life.
Women who suffer from PMS often have low blood sugar. Once the blood sugar is stabilized, the PMS can be dealt with more effectively.

This book is written by low blood sugar sufferers rather than by a medical person since only sufferers have the insight into dealing with the everyday situations of low blood sugar. After working with hundreds of hypoglycemics, Edward and Patricia Krimmel have articulated the things that only sufferers can know. They give the clear, practical and complete advice you need for understanding and dealing with the everyday nitty- gritty of low blood sugar.