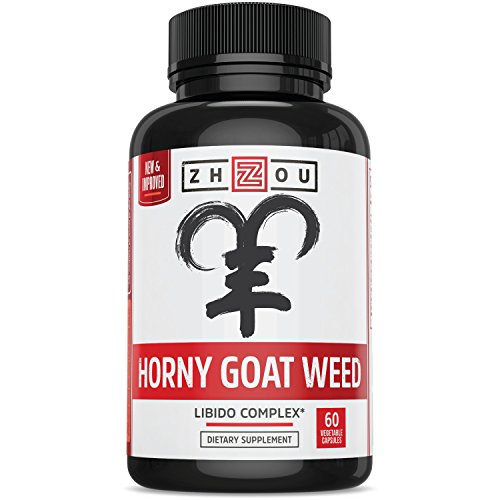 RESULTS YOU CAN FEEL
Are you tired of not being "in the mood" when the time is right? Not feeling confident in your performance or stamina? With Zhou Nutrition's Horny Goat Weed Blend with Maca, you can get your confidence back. Regain the youthful drive you and your partner have been craving.
NATURAL ENERGY & FOCUS Have Never Been Easier!
Don't let a lack of focus and energy keep you down. Our blend includes natural ingredients to support energy & focus throughout the day. Accomplish tasks and stay alert without feeling jittery or having trouble falling asleep.
Most Popular Horny Goat Weed Blend!
Zhou Nutrition's blend has just the right amount of each natural ingredient to maximize your results. You can buy with confidence knowing that we have strict FDA and GMP-Approved manufacturing standards for this and all Zhou Nutrition products.
*Privacy Packaging*
Don't worry. Zhou Nutrition's Horny Goat Weed blend comes packaged discreetly so you can have it delivered wherever is convenient for you, without worrying who might find it. There is no description of the contents on the outside of the package. We've got you covered!
If you're ready to rev up your drive and enjoy youthful energy & focus, click "Add to Cart" now and experience the power of Horny Goat Weed for yourself!
ARE YOU READY? When taken as directed, our Horny Goat Weed Blend is guaranteed to rev up your sex drive, support performance, and boost your energy and focus throughout the day. You'll feel it working within the first week! Take consistently for best results.
NATURAL LIBIDO BOOST: This complex is a unique combination of several herbs that have been used by MEN & WOMEN for centuries in Chinese herbal tradition, including Maca Root, Tribulus Terrestris, Muira Puama, Ginseng, and Icariins, which is the active component in Epimedium (scientific name for Horny Goat Weed). This vegetarian formula was scientifically formulated with just the right amount of each ingredient to maximize results.
TOP RATED, TOP QUALITY: This expertly-crafted libido complex is truly the best of its kind. Only the highest quality and most effective ingredients were chosen for this vegetarian friendly, non-GMO formula. Get ready, you'll experience more powerful sexual benefits than you ever could've imagined from a natural supplement!
YOUTHFUL ENERGY & FOCUS: You'll love the 'extra' benefits of this blend. You'll have the energy & focus to check off your to-do list like never before, and still have plenty left over for that special someone. Our herbal ingredients bring a healthy burst of energy to your day without the jitters. Trust us, you'll feel it.