Newborn baby dies from SYPHILIS in Britain 'for the first time in decades' as cases rise by 20% in a year
Cases of the sexually transmitted infection are at their highest since the 1940s
Growing numbers of women are passing it on to their babies during pregnancy
This is the 'first time in decades' it has been a problem, sexual health experts say
At least one baby died of syphilis in the UK last year as experts warn transmission during pregnancy is becoming more common.
The sexually transmitted infection (STI) is killing babies in Britain for the 'first time in decades', with cases among adults reportedly at their highest levels since the 1940s.
More pregnant women are going to hospital with the illness, which can pass through the placenta, with the number of times it was passed on 'in the double figures'.
The British Association of Sexual Health and HIV said babies catching the infection has 'dire outcomes'.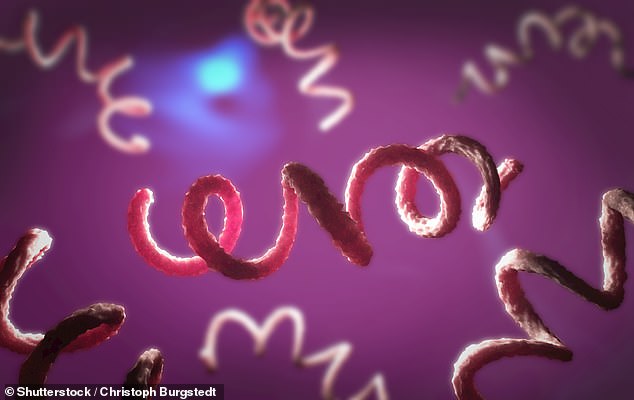 Syphilis cases are on the rise in the UK and are reportedly at their highest levels since 1949 – experts say growing numbers of women are passing the infection onto their babies (stock illustration showing the syphilis bacteria)
'We are seeing neonatal syphilis for the first time in decades and neonatal deaths due to syphilis in the UK,' said Dr Olwen Williams, president of the BASHH.
'I think that probably reflects some issues that we've got.
'We are seeing an increase in women who are presenting with infectious syphilis in pregnancy, and that has dire outcomes.'
While speaking to Parliament's Health and Social Care Committee, Dr Williams said at least one infant had died in the past year because of syphilis.
Spread by unprotected sex, the infection is treatable but can cause serious health problems if it goes unnoticed or infects a pregnant woman or baby.
It can spread from mother to child through the placenta before a baby is born, and potentially cause miscarriage or stillbirth.
Children born with syphilis can be treated with antibiotics, but it may cause bone and muscle problems later in life, as well as sight or hearing damage, paralysis, or delays to their development.
Syphilis cases are the highest they have been in more than 60 years in Britain, according to reports, and there was a 20 per cent rise between 2016 and 2017.
A total of 7,137 cases were diagnosed in England in 2017, up from 5,955 in 2016 and just 2,646 in 2010, according to Public Health England.
Statistics last year showed sexually transmitted infections, including syphilis, are also on the rise in over-65s, whose improving health and access to drugs like Viagra are keeping them sexually active for longer.
Dr Williams said budget cuts to sexual health services and people having difficulty accessing them has contributed to the spread of the illness.
And she last year pointed the finger at mobile dating apps for fuelling a rise in STIs because they make it easier to swap partners quickly.
HOW SYPHILIS RAVAGED ITS VICTIMS BEFORE PENICILLIN
Syphilis first broke out in the 15th Century when French soldiers invaded Naples in Italy and, although it wasn't as deadly as the bubonic plague, it was debilitating, repulsive and incurable.
Before the age of penicillin, which wouldn't be invented for another 500 years, the bacterial infection began with sores on the genitals before spreading deeper into the body.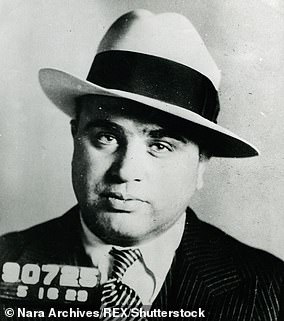 Al Capone, a mob boss in Chicago in the early 1900s, had untreated syphilis which spread and damaged his brain
After weeks or months of infection, abscesses and ulcers would form on other parts of the body and people would feel severe pain in their muscles and bones, particularly at night.
As the disease progressed, people's ulcers could eat away the flesh on their nose, lips and eyes, and reach into their bones. It can eventually spread throughout the body and damage vital organs.
By the end of 1400s, syphilis had spread through to England and Scotland through France, Switzerland, Germany, Scandinavia, Hungary, Greece, Poland and Russia, and the global exploration over following centuries spread it round the world.
Famous people thought to have suffered from syphilis include Nazi leader Adolf Hitler, Russian author Leo Tolstoy, British writer Oscar Wilde, Dutch painter Vincent van Gogh, and the American gangster Al Capone.
WHAT HAPPENS TO CHILDREN WHO SURVIVE SYPHILIS?
Children born with syphilis – passed through the placenta in the womb – can now be treated with antibiotics. It can cause miscarriage and stillbirth.
But it may cause bone and muscle problems later in life, as well as sight or hearing damage, paralysis, or delays to their development.
The US is also in the grip of rising numbers of babies being born with syphilis, with the Centers for Disease Control and Prevention reporting a 20-year high in 2018.
The rate doubled in four years there, with 918 newborns contracting the disease from their mothers last year – a large proportion of them were in California.
In her discussion with the Health and Social Care Committee, Dr Williams also warned the Government needs to prepare to spend millions of pounds treating antibiotic resistant gonorrhoea soon.
She said resistance was a 'major issue' which could increase the cost of curing gonorrhoea from around £250 to £1,500 per patient.
This could mean additional costs to the NHS of up to £3.5million over the next four to five years, she said.
'We are going to land in a situation where a simple disease, which is treatable with one injection and curable, will become an inpatient event of three days,' Dr Williams told the committee.