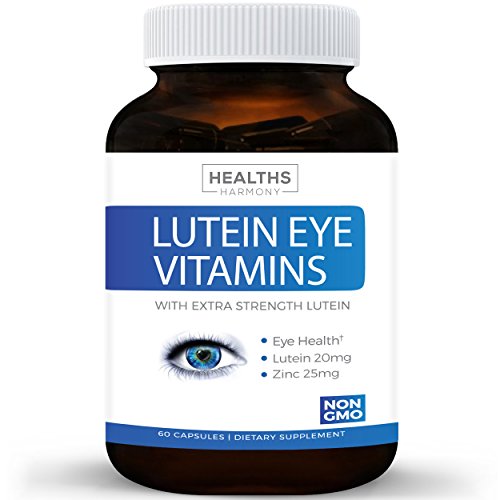 Trust Lutein for Natural Vision Support!
Between harmful UV rays, poor nutrition, and straining while looking at the computer screen,
your daily life can be doing your eyes some serious damage.
The Advanced Vision Health Supplement by Healths Harmony was specially formulated to give
your eyes the care and nutrients they need! As the star of our powerful blend, Lutein promotes
vision health by protecting the eyes from harsh sunlight damage. This, in
turn, helps reduce your risk of developing age-related eye diseases.
Other ingredients like Zinc and Grape Seed work together to protect the eyes by easing
strain-related stress and by producing protective melanin. Add to that antioxidant-rich Vitamin A
for improved vision at night and Bilberry for reduced inflammation, and you have a
supplement that your eyes will thank you for!
The Healths Harmony focus on natural ingredients is no mistake! We believe in using herbs,
extracts, and vitamins that offer safe and effective results. And because this supplement is made
in the USA in FDA-approved facilities, you can rest assured knowing that this is a
premium quality product.
Why Choose Our Vision Health Supplement?
– Loaded with Lutein, "The Eye Vitamin"
– Naturally supports vision health
– Blend of natural herbs and vitamins
– Made in the USA in FDA-approved facilities
– No fillers or artificial ingredients
Try Risk-Free with Our Money Back Guarantee!
*Stock is limited. Order today to ensure availability.
Order Your Vision Support Supplement Now and See the Extraordinary Results!
POWERFUL LUTEIN PROVIDES ADVANCED VISION SUPPORT: Known as "The Eye Vitamin," Lutein helps improve vision by protecting your eyes from harmful UV rays and sunlight damage. By acting as a light filter, this incredible vitamin helps to naturally minimize the risk of eye diseases.
EXTRA STRONG EYE CARE: Our potent formula is loaded with powerhouse ingredients that your eyes will love! Vitamin A, Zinc, Bilberry, and Grape Seed team up to aid vision support by reducing inflammation, soothing lens damage, and improving night vision.
NATURAL VITAMIN AND HERB FORMULA: What makes the Healths Harmony name so reliable? We keep an expert blend of natural ingredients at the core of our supplement. You'll get no fillers or artificial ingredients, just natural vitamins and herbs for effective eye health!
PREMIUM QUALITY STANDARDS: When it comes to your health, don't take any risks on quality! Made in the USA in FDA-approved facilities, our adherence to GMP guidelines means that our product is effective, safe, and one of the best eye supplements available!