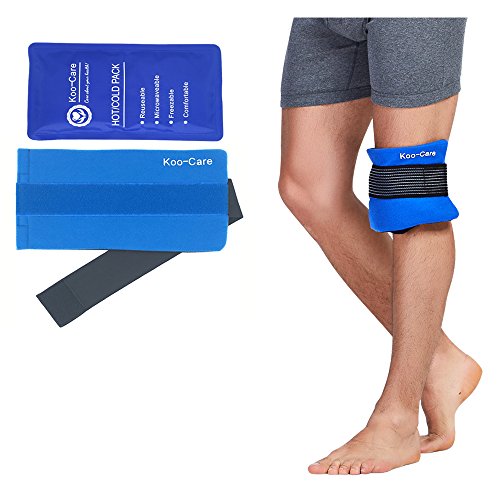 Koo-Care Ice Pack & Wrap,
A must-have for pain relief and injury treatment.
Are you looking for a versatile quality ice pack & wrap to relieve pain and treat injuries?
Look no further! Koo-Care ice pack & wrap set is your ideal multipurpose wrap.
Koo-Care offers a choice of 3 sizes which meet different needs.
The small size (4.7″ x 9.8″) fits for small body parts and limbs.
The medium size (11″ x 5.9″) fits for most areas.
The large size (11″ x 14″) fits for adults who want to apply the ice wrap to rather large areas.
Look at the pictures to decide which one meets your requirements.
Features of this medium size:
✓ Large gel pack keeps cold longer
✓ Reusable and microwaveable
✓ Flexible and soft at 0°F (-18℃)
✓ One size fits most (neck, shoulder, arm, elbow, wrist, back, knee, ankle etc.)
✓ CE and FDA certificated.
Hot compress is recommended for:
1. Muscle pain and spasms
2. Mild arthritis
3. Sprains, strains and stiffness
4. Menstrual cramps etc.
Cold compress is recommended for:
1. Sports injuries
2. Toothaches
3. Back ache or joint pain
4. Fever or headaches
5. Minor burns etc.
CONTENTS
● 1 gel pack (11″ x 5.9″) that can be frozen, heated or microwaved
● 1 polyester wrap that has a pouch and an elastic band with Velcro strap (Total length extends from 23″ to 30″)
● 1 elastic extension band which extends from 23.6″ to 33.5″
OUR GUARANTEE
✓With Koo-Care, you're taking on absolutely no risk. 1-Year Warranty (Free No-Hassle Replacement!)
✓Best customer service. Please get in touch with us for any questions
ATTENTION:
Some brands don't have Velcro loop tape on the cloth wrap which will lose its stickiness after some time, but Koo-Care will never.
Includes a nylon non-toxic gel packs(11" x 5.9"), a matching wrap and an extension band, available for both hot and cold compress, keeps flexible and soft after frozen even at 0 °F(-18℃), CE and FDA approved.
The wrap with an attached elastic Velcro strap makes it easy to keep the cold pack in place, and the extra band with Velcro straps makes it available to be used for shoulder, waist & back and other large areas.
The gel packs are reusable and can be frozen, heated or microwaved. Used for neck, shoulders, arm, elbow, wrist, back, knee, shin, ankle etc.
First aid essential for home or clinical use as it is ideal for sports injuries, muscle pains, strain & stiffness, body aches and more!
Guaranteed: 1-Year Warranty – a Free No-Hassle Replacement Process!