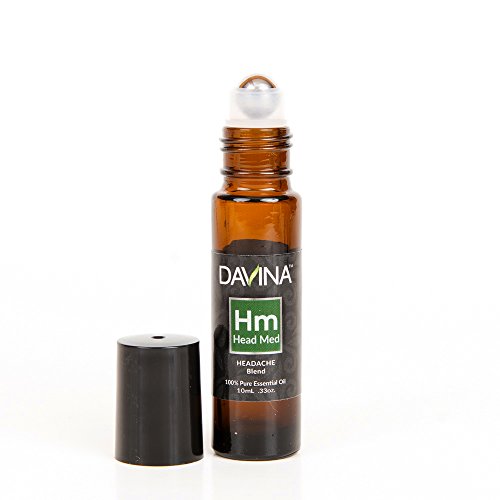 A wonder at soothing that tight band of tension that often accompanies headaches, this fresh minty blend was designed specifically to provide headache relief. To use, apply to each temple and across the forehead, along the hairline, on the scalp, on the neck down to the shoulders, and along the jawline, then simply breath in the refreshing and comforting scent while it goes to work giving you relief.
DAVINA ARTISANAL BLEND: Peppermint (Mentha piperita), Cajeput (Melaleuca cajuputi), Marjoram Marjoram, Sweet (Origanum majorana), Lavender (Lavandula angustifolia), Rosemary (Rosmarinus officinalis), Frankincense (Boswellia serrata), Basil, Sweet (Ocimum basilicum), Wintergreen (Gaultheria procumbens), Roman Chamomile (Anthemis nobilis)
THERAPEUTIC QUALITY OIL YOU CAN RELY ON: When evaluating a potential source for essential oils, Davina will consider many aspects such as growth conditions, production, and storage procedures. Environmental factors such as elevation, climate, soil texture, organic matter, composition and temperature can impact the health, vitality and essential oil production of medicinal plants. These variables, among others, like harvest time, processing procedures and storage conditions, influence the quality and quantity of essential oils the plants produce. We ensure our oils are sourced from optimal environmental conditions using the best production methods. The result, is Davina offers the most potent and pure therapeutic quality oils available.
SAFE AND NATURAL: Head Med is an all-natural alternative form of headache relief. Head Med can be used independently or with over-the-counter pain relievers when they fail to address the tightness and pressure that often accompanies headaches. Provides relief within minutes.
READY TO GO: Blended with a high quality fractionated coconut oil making this great on the go!
FRESH INVIGORATING AROMA: Head Med has a fresh minty scent that is as refreshing as it is comforting. For some, breathing the aroma can be just as soothing for tension as applying it topically.
EASY TO USE: Head Med can be applied to the temples, forehead, jawline, neck, and shoulders, and can be enjoyed by inhaling the aroma.
100% PURE & POTENT: Each oil is GC/MS tested to ensure 100% certified pure therapeutic grade quality. Reports are posted on direct website. No pesticides, herbicides, GMO or additives. Other quality tests performed: Chiral Testing, HPLC, Optical Rotation, Refractive Index, Organoleptic, C14 Naturalness & Specific Gravity Testing