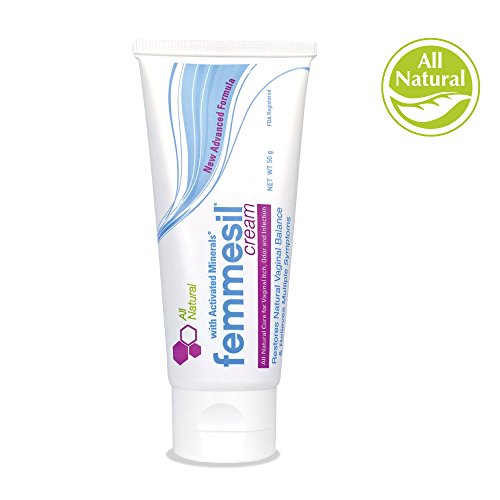 An All-Natural, Gentle Feminine Care Solution
Femmesil is an all-natural, powerfully effective cream that eliminates fungal and yeast infection and restores feminine health. Femmesil uses a powerful antifungal ingredient, made to kill fungus fast and restore natural pH balance. With soothing essential oils and patented Activated Minerals® that deliver fast, targeted relief, Femmesil is a unique FDA registered remedy that combines the latest science with the finest natural ingredients for a truly feminine care system.
Yes, Femmesil Really Works
• Kills fungus up to 8 times faster than leading brands
• Restores natural feminine pH balance
• Relieves itch, irritation, soreness, burning, odor, and excess discharge
• Soothes and moisturizes instead of causing irritating dryness
With Patented Activated Minerals® to Speed Results
Femmesil is the only feminine care product of its kind that features patented Activated Minerals®, a proprietary blend including Volcanic Clay, Silver Oxide, and Zinc Oxide. This technology was developed to facilitate faster, directed delivery of FDA approved active ingredients to significantly enhance their performance. In addition to their drug delivery properties, each of the ingredients that comprise Activated Minerals® have specific skin care benefits.
What Do Customers Like About Femmesil?
• Backed by 10 years of research
• FDA-registered remedy
• All-natural formulation• Free of unnecessary chemicals, artificial scents, parabens and potentially harmful preservatives
• Moisturizing formula will not cause irritation
• Proudly made in the USA
Please allow up to one week for results.
KILLS FUNGUS UP TO 2.5X FASTER than leading brands in 1 hour so you get the fastest, most targeted relief for your feminine issues
NO HARSH FRAGRANCES, DYES, OR PRESERVATIVES means that Femmesil is perfect for sensitive skin
RESTORES NATURAL pH BALANCE which is crucial to good vaginal health and relieving uncomfortable symptoms
NATURAL, ORGANIC INGREDIENTS mean that you don't have to worry about harsh chemicals causing further irritation
Femmesil is good for: Yeast infections, one time or recurring vaginal itch, irritation, soreness, burning, discomfort, and excess discharge. All-natural, deep moisturizing formula that is paraben-free, alcohol-free, dye-free, fragrance-free, non-irritating, soothing, and safe for sensitive areas