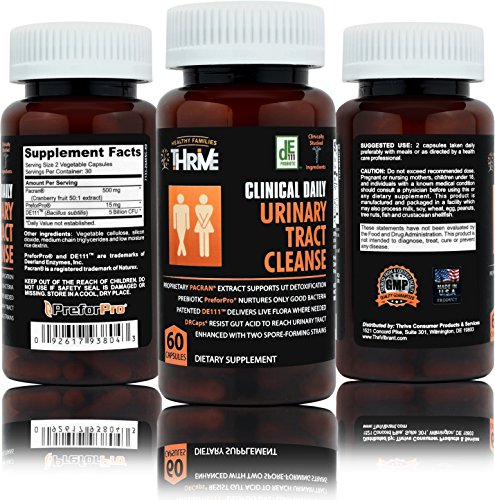 CLINICAL DAILY Urinary Tract Cleanse is a breakthrough UTI detoxification formula. It combines potent infection fighting Cranberry Extract for detox with DE111®, a proprietary probiotic + patented smart prebiotic PreForPro®. PreForPro® is technologically superior to passive starch fiber prebiotics such as Inulin and selectively nurtures good bacteria while killing bad bacteria through a "Crowding Out Effect". PreForPro® is proven to help good bacteria outgrow and kill unhealthy bacterial strains like eColi to cleanse infection and increase immunity. Together these active ingredients are delivered throughout the length of the urinary tract to fight any indications of UTI. Detox, Cleanse, Rejuvenate your body.
PreForPro® PreBiotic feeds a proprietary ProBiotic DE111® with 5 Billion hardy "Good Bacteria". These occur naturally in select food groups and in the human body, and are proven SAFE and EFFECTIVE for DAILY use. Two reasons DE111® outperforms ordinary probiotics:
1. DRCaps® protects live cultures for deep system delivery. Most probiotics deliver bacterial strains that lapse, or die, before consumption, in storage and certainly as they pass the acidic conditions in the human stomach. Protected by DRCaps®, proprietary capsules protect the bacteria for deep delivery in the body.
2. DE111® or Bacillus Subtillis is a proprietary hardy spore-forming strain of bacteria. Normal probiotics do not come with spore-forming strains. Simply put, spore-forming bacteria are critical for long-term effects of probiotics due to their unique ability to regenerate at the target location.
CLINICAL DAILY products are designed to work with specific conditions. Try this breakthrough product alone or with a proven gut cleanse system for whole body health:
1. CLINICAL DAILY Regular Cleanse with psyllium and l.acidophillus for gut health.
2. CLINICAL DAILY Urinary Tract Cleanse with prebiotic probiotic booster
.
PACRAN® Cranberry extract vegetable capsules support urinary tract infection and kidney infection in women and men
Patented PreBiotic ProBiotic supplement for women and men – 5 Billion CFUs of hardy "Good Bacteria" deep in the gut
Outperforms ordinary probiotics: DRCaps® protects live cultures for immune delivery deep into the large intestine
Most probiotics bacterial strains die before consumption, in storage or as they pass stomach acidity
Proprietary DE111TM hardy spore forming strain of bacteria. Normal probiotics do not come with spore-forming strains