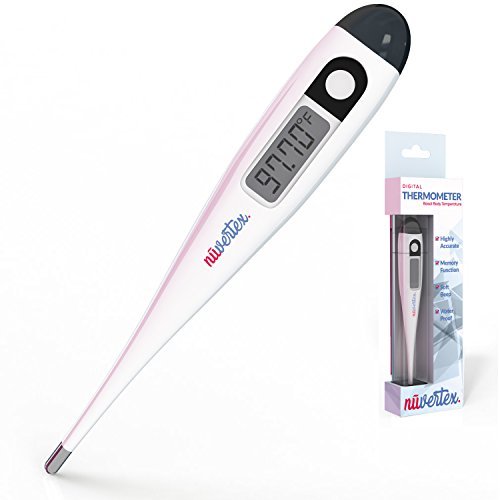 Basal Body Thermometer by Nuvertex
Predict ovulation easily by charting your basal body temperature with Basal Body Thermometer. Medically calibrated, tested and approved device for fertility tracking.
WHY BASAL BODY THERMOMETER?
Having a pattern of your cycle can help you to get pregnant or control your fertility. To make a predictable pattern, you will need to measure basal body temperature, lowest body temperature in 24-hour period, every day for a few months. For accurate fertility monitoring you'll need Basal Body Thermometer by Nuvertex. What's more, measuring basal body temperature may have a subsidiary effect – changes in body temperature can indicate hormonal disorders.
PRODUCT DESCRIPTION
Basal Body Thermometer by Nuvertex  is exact and reliable digital basal thermometer, with clinical accuracy 1/100th degrees Fahrenheit. The beep sound indicates the test is completed, so you can record temperature on Ovulation chart. Basal Body Thermometeris highly sensitive, waterproof and has clear LCD display, which makes it perfectly simple to use.
HOW TO USE IT
Take your temperature when you first wake up in the morning – before you eat, drink, or step out of the bed – and record it. Try to take a reading at about the same time every morning. If you don't take your temperature immediately after waking up or if you get fever, your chart will be invalid. Note that it will take 2-3 minutes to get results. Put Basal Body Thermometer under the tongue, sit down and close your mouth tightly.  Press the power button. For getting a good measurement, your mouth needs to be closed, because the air flowing cools down your mouth tissues.
PACKAGE INCLUDES
1 x Digital basal thermometer
1 x Hardcase 
TRACK WITH CONFIDENCE – This digital basal thermometer has clinical accuracy of 1/100th of a degree. Anticipate ovulation and fertile window accurately by tracking BBT daily at the same time and place
ACCURATE FERTILITY TRACKING is possible using Nuvertex's digital BBT thermometer. This highly sensitive basal digital thermometer is an excellent device for natural family planning process
OBTAIN YOUR READING as indicated by the soft sound of the beeps to indicate that the test is complete so you can record the Basal and Fertility Temperature using an Ovulation Chart
ENJOY THE PEACE OF MIND that FDA and European CE approval brings to know that you are using a truly medically calibrated, tested and approved device while tracking your body's temperature
EASY TO READ CLEAR LCD display to gives you your reading in Fahrenheit (F) to 1/100th of a degree